Cheap holidays in other people's luxury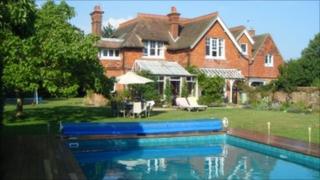 Some people have the knack of finding a holiday bargain.
Take this place: A classic five-bedroomed, Victorian tile-roofed house lying on a quiet lane leading to the church in a smallish West Sussex town.
It has a swimming pool, tennis court and a vegetable patch, set in three acres.
The property has the kind of peace and space you would expect at a five-star hotel or villa.
If rented in Spain - or Portugal - it would cost about £2,000 a week.
But what price in West Sussex?
Nothing - if you become a house sitter.
Lonely cat
Penny Coppin, owner of the property, is prepared to allow someone the run of the place while she takes her own UK holiday - as long as they are prepared to do a bit of work.
"We have our cat, Bruno, who gets lonely, and Archie, a rather bouncy dog. Plus the plants might like a spot of water. Oh, and the swimming pool benefits from a bit of maintenance."
Andy Peck, a screen writer, is a regular house sitter and not just in the UK.
It began when he was looking for somewhere quiet to write but although house sitting was the affordable answer, it took time before he found the right place.
Roman watermills
But it turned out to be pretty spectacular: "The property - in Galicia, Spain - had its own vineyard, Roman watermills and views across to Portugal. I was amazed when the owners told me they had difficulty finding good sitters.
"It became obvious that there was a clear need for a comprehensive site for homeowners and house sitters to find each other."
So Andy founded the website Trustedhousesitters.
A growing number of these are in business, offering to match house sitters with holidaying property owners who prefer their pets looked after at home - or who simply do not want to leave their homes unoccupied.
Most start by charging a registration fee, variable according to the length of membership.
Trustedhousesitters charges £9 for one month's membership, rising to £36 for a year for both sitters and owners with no further charges.
For the sitter, there's a choice of fine-looking free properties all over the world, including Mexico, whose cost only varies according to the cost of travelling to them.
Holiday pay
But sitters can also earn money.
Other websites, such as homesitters and home-and-pets, pay people a daily rate, a food allowance and return travel within a reasonable distance to a housesitter, who would be expected to look after any pets as well as take care of the house.
They typically demand more of a commitment than a simple matching service.
Absentia, which runs home-and-pets, requires its housesitters to become employees and be available for a minimum of eight weeks a year.
It pays £12 for two hours' work, a food allowance of £7 a day and return travel within a reasonable distance.
It has about 250 people on its books.
Susie Ball, of Absentia, concedes this does not give them the full freedom they would normally get from a holiday: "It can be a little restrictive. You can't leave the house for more than a couple of hours a day."
Property owners pay about £40 a day to organisations that pay sitters.
The sites try to avoid trouble by requiring a lot of details from sitters - including references - which owners can then follow up.
Susie Ball says Absentia vets people very closely indeed.
Andy Peck says his site is just as careful with its matches - and saves property owners substantial amounts of money: "Aside from just the cost which can be between £500-£1,000 for a fortnight's holiday - home and pet owners can read about and choose exactly who looks after their home and pets."
There are photos, whether sitters have a police check, references and even passport details - on request only.
More time than money
By using Trustedhousesitters, Penny Coppin will not be paying any more than the registration service.
She says she is satisfied that the level of information and range of people provided by the site will ensure a professional service.
"There is a huge range of people to chose from on the website - young people wanting to travel and do it cheaply, ex-policemen, teachers, university professors.
"The sitters I chose had excellent references - which I did follow up."
Sitters are generally people with more time and less money.
Susie Ball says some of her employees are looking for more than just a break: "Some of them really need the money. Some are on a basic state pension and find the extra very useful indeed.
"Our housesitters are there to look after pets as well as properties. Many have had pets in the past but can no longer have their own, so they are keen to spend time with animals.
"And, of course, they do get to stay in some very fine houses."
Whichever service you use, you are not assured of getting a place if you do not pass the vetting process.
But if you do get through, you could be planning free holidays for years.
Andy Peck says that happened to him: "I became good friends with the owners of the Galician house. We'd pick each other up from the airport, cook each other welcome meals. If things work well for both parties, who are they going to ask when they next go away?"
Susie Ball says some of her employees have been with their sitters for 20 years.
'Things happen'
The independent consumer publication Which? Holidays, has some basic advice on its website for anyone considering letting out or taking up a house-sitting holiday.
It relates to people who are swapping homes directly, who will be staying in each others' properties, and therefore have a mutual stake in the venture.
Its main warning - that there is no compensation if things go wrong - holds true for house-sitter search users, too.
Penny Coppin was confident that things would go well for her.
"Well, there is a chance something could happen. A plant or two could die. The swimming pool could go green. Even the dog could get run over - but I'm sure it wouldn't be the people's fault.
"These things happen, don't they? That's life!"