Chase Carey: The new Rupert Murdoch?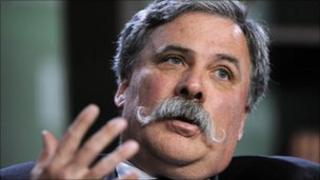 As pressure mounts on beleaguered News Corporation boss Rupert Murdoch, attention has inevitably turned to potential successors.
But few are looking very far. In fact, if Mr Murdoch is forced to step down, one name above all others has been linked to the top job.
Chase Carey, some say, is a shoe in.
But who is Mr Carey, apart from being a pin-up boy for aspiring handlebar moustache growers everywhere?
Popular return
He holds the rather grand title of deputy chairman, president and chief operating officer at News Corp. In other words, he looks after the day-to-day operations of the firm.
He is, observers say, rather more focused on the bottom line than Mr Murdoch, and hence less partial to making expensive and costly punts, such as buying MySpace for $580m in 2005.
As such, he is popular among shareholders.
He has also proved his worth to the corporation since first joining in 1988, distinguishing himself in the role of chief executive of satellite network DirecTV by adding millions of new subscribers. News Corp subsequently sold the network.
His return to his current role in 2009 was greeted with enthusiasm by shareholders, who like his straight talking and down-to-earth persona as much as his business acumen.
And they reward him handsomely. Mr Carey, 57, earned a total of $26m (£16m) last year according to Forbes magazine - including a salary of $8m and bonuses of $15m.
It would appear he understands the importance of keeping shareholders onside, with reports suggesting it was he who pushed through the massive share buyback that helped to steady News Corp's share price in the wake of the News of the World hacking scandal.
Analysts also suggest it was Mr Carey who forced through the sale of MySpace for a massive loss last month to prevent the social networking site becoming an ever-greater drain on resources.
Hard cash
These hard-nosed business decisions are what many investors would like to see more of, with the suspicion that emotions and instinct have played too big a part in the Murdoch empire's decision-making process to date.
Some suggest this could mean the Murdoch newspaper empire taking a back seat, with the focus very much on TV, satellite and entertainment channels - those businesses that generate strong cashflow.
Mr Carey, who holds an MBA from Harvard, would certainly rely more on the cold, hard numbers underpinning his profit and loss accounts, analysts say.