Are you being served?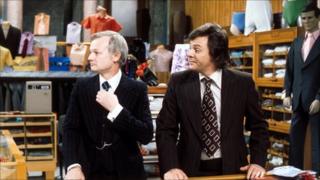 Shops. We go there, we browse, we buy.
But in the last few years, our increasingly mobile and digital society has been trying to achieve this successful money-product exchange without much need for bricks and walls.
One of the first solutions has been moving the catalogues online - first onto your desktop computer and, lately, on your smartphone's tiny, shiny screen.
Remote villages
Nowadays, almost every major retailer has a website; those that yet don't, are certainly moving in that direction.
But for some, the traditional formula of simply setting up a web page and waiting for customers to click "buy" just does not work.
Pixel Electronics, a home appliances company in Belarus, first began selling its products - coffee makers, digital cameras, TVs, sound systems, fridges - at the main store in the capital Minsk.
But it wanted to expand and reach the most remote corners of the ex-Soviet country.
There were two options, says CEO Andrei Simonovich: either to start dotting the map with new shops, or to go online.
But in both cases, there were problems.
Not many Belarusians who live in rural areas and small towns have internet access - or carry around 3G smartphones.
So it seemed tricky to rely on e-commerce alone.
Opening new shops was not a much better alternative, says Mr Simonovich.
"In many small towns and villages it is simply not profitable to set up a store.
"We'd never have enough regular sales to generate profit and cover expenses such as rent fee, salaries, and so on - so we dropped the idea."
Faced with a dead end, the firm started to seek out new marketing initiatives.
And in the spirit of merging online and offline, it decided to set up electronic terminals - ordinary computers with the store's online catalogue - in other stores all over the country.
The concept is similar to, but a step forward from the French Minitel - a closed network of e-terminals in the pre-internet era of the 1980s.
People used Minitel to search the telephone directory, communicate via a special mail system and even make purchases online - just like we do now on the web.
Pixel Electronics' idea is only different in the way that its terminals are internet-connected - but only to the store's website.
"Since these small shops in remote places have very limited floor space, they can only put a small fraction of our products on their physical shelves - or none at all," says Mr Simonovich.
"But with the e-terminals, when shoppers come into the store, they can choose not only from what they see on the shelves, but also from our entire catalogue on the internet.
"It's like opening a store in a small town for just $500 - because that's what it costs us on average to invest into a terminal, and after that we only pay for the internet connection, as well as commission from sales to the shop."
Mr Simonovich explains that with this solution, it is a win-win for everyone involved.
Pixel Electronics gets their sales' profits, the regional client - the shop - gets its commission from sales of products that do not even take up any physical space in the shop, and individual buyers living in some tiny village are able to bring home a 3D television that they otherwise could have only dreamt of.
"If you make your order online before the end of the day, our delivery van will leave the Minsk base the next morning at 6am - and the buyer will receive the purchase that same day.
"And the price is the same everywhere, no matter if you buy your TV in our Minsk store or online."
And the sales are not limited to the e-terminals in stores - people who do have a computer and internet access can also place an order from home, and it then gets delivered either to their door or to the town shop.
"For us, e-commerce brings in additional money of some 7-10% of total revenue - a substantial sum," says Mr Simonovich.
And the company has recently started to embrace mobile shopping, too - it has developed an app for smartphones to allow orders on the go.
Offline & online
This gradual metamorphosis of e-commerce into m-commerce has been especially visible in recent months.
There are places such as China, for instance, where most people go online on their mobiles as opposed to home computers - and turning them into buyers is many retailers' ultimate goal.
Martin Gill from Forrester Research thinks that the smartphone is becoming that crucial glue destined to bind the online and the offline experiences together.
"Apps like bar code scanning, store locator, checking physical stock online via your phone - all of these features are turning your mobile into a shopping buddy or a shopping assistant," he says.
"These technologies are compelling and quite playful ways of engaging shoppers - they make the experience interesting, they make it unique to you, trying to build an emotional connection and create a link that resonates on a personal level."
Even such giants and pioneers of online commerce as eBay and Amazon that have never even had physical stores, have eventually joined the crowd and followed you from your living room right into your car, train or your child's playground.
"Mobile shopping is a hugely-growing trend," says Angus McCarey, eBay's retail director.
"In 2010 we tripled the amount of global business that we did over the mobile, reaching $2bn (£1.2bn), and this year, we're on track to double it - we'll do $4bn (£2.4bn) or more."
In the UK, considered the most rapidly-developing European market in m-commerce, during last year's Christmas holiday season eBay had 10% of its turnover through some kind of mobile application.
And eBay is not stopping at simply dragging you onto their website via your phone.
With ever-evolving technology and consumer habits, the company has had to innovate to constantly stay ahead of the game.
For instance, book lovers in a store now have a choice of either buying the item in front of them or using a special smartphone app to find that book on eBay - for less money.
"The world of offline and online shopping is blurring through the mobile, and with scanning technologies such as Red Laser, you can check the price of a book that you're looking at in the shop and order it really quickly online," says Mr McCarey.
And although this technology is still mostly limited to scanning easily-catalogued products such as books and DVDs, it soon might be possible to snap a photo of that stunning but crazy pricey red dress on a mannequin in a shop's window - and through some internet magic instantly find it far cheaper on the web.
Tesco concept
And some are going even further in their quest of bridging the online, offline and mobile worlds.
The UK retail giant Tesco already has a multitude of stores around the planet, but its South Korean branch Home Plus, jointly owned by Tesco and Samsung, has decided to try out a new initiative.
It now thinks of bringing the supermarket shelves right into the subway.
The concept aims to place huge digital billboards with images of Tesco products on virtual shelves onto subway station walls - so that commuters could use their smartphones to scan the items' barcodes, place an order, pay and arrange a delivery while waiting for a train.
"This is a concept and is not operational - however, we are always looking to innovate for the benefit of our customers and make their lives that little bit easier," says a Tesco spokesperson.
"We recognise that, increasingly, people wish to be able to shop at home or when they are on the move, as well as in our stores."