Microsoft revenues hit a record as Xbox sales soar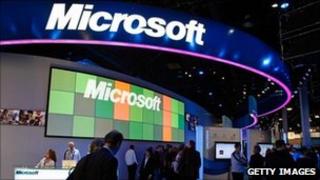 The US technology giant Microsoft said its annual revenues hit a record of $69.94bn (£43.4bn).
Sales of the company's Xbox 360 videogame console and its Office software helped fuel the growth.
Net income at the world's biggest software maker jumped 23% to 23.15bn for the year.
The figures, which beat forecasts, showed final quarter revenues reached a record high of $17.37bn, leading to profits of $5.87bn.
Sales rose 8% to $17.37 billion, a boosted chiefly by sales of Office, Xbox and server software behind Microsoft's push into cloud computing.
Microsoft's business division, which sells the Office suite of programs, including Outlook, SharePoint and Excel, was the company's biggest seller in the quarter, increasing sales by 7% to $5.8bn.
The company's online services unit, which runs the Bing search engine and MSN internet portal, increased sales by 16.5% to $662m, but saw losses increase to $728m as it struggles to fight competitor Google.
One weaker spot was sales of its widely-used Windows product, which are slowing as tablet PC sales eat into demand for traditional PCs.
On Wednesday, chipmaker Intel warned that PC sales would not be as strong as it had expected this year.
Microsoft is itself expected to enter the tablet market next year with the launch of its next operating system, code-named Windows 8, which will be compatible with the low-power chips commonly used by tablet and mobile phone makers.
Microsoft is the latest technology company to exceed profit expectations.
Google, Apple and IBM all reported strong earnings recently.