GE moves X-Ray unit to China to tap emerging markets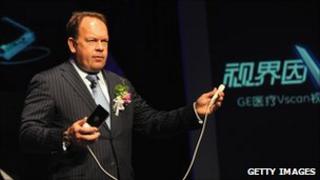 General Electric (GE) said it is shifting the headquarters of its X-Ray unit to China, in an attempt to capture the fast-growing emerging markets.
The move comes as companies look to tap into emerging markets as demand from developed economies slows down.
The company said several senior officials of the unit will relocate to Beijing from the US over the next month.
GE Healthcare is the world's biggest maker of medical-imaging machines.
"I am keeping a globally distributed executive team," said Anne Legrande, vice-president of GE Healthcare Global X-Ray.
Growing importance
China is the second-largest and one of the fastest growing economies in the world.
Its rapid economic expansion has turned the country into one of the key markets for GE Healthcare.
The company's sales in China hit $1.1bn in 2010.
As the Chinese economy grows, the company is expecting the spend on healthcare to grow even further.
It has already announced plans to invest $2bn in China to expand its operations, including the building of innovation and development centres in the country.
"This is the first time a global product company is moving its headquarters to China," said Rachel Duan, chief executive of GE Healthcare China.
Overall, sales of GE Healthcare surged by 19% in the emerging markets in 2010.
Ms Duan added that the move to China will help the company concentrate on expanding its operations in emerging economies even more.
"As the company is going more global, it is important to be closer to our markets," she said.