Australian retailers take a beating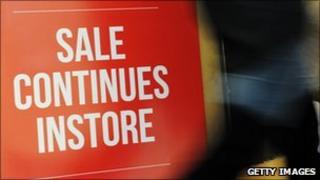 For all the talk about Australia's "wonder from down under" economy, the country's retailers are suffering their worst slump in 20 years.
May saw a 0.6% fall in retail sales. Year-on-year, clothing, footwear and personal accessory retailing fell by 2.6%. Blue-riband retailers have spoken bleakly about sales falling of a cliff.
"A golden age for Australian retailers is over," wrote the economics commentator Jessica Irvine in the Sydney Morning Herald last week. "Gone. Finished."
Retail insiders are worried too. "It's not a pretty picture," says Russell Zimmerman, the executive director of the Australian Retailers Association (ARA).
"For many, it's the worst situation they've experienced in their retail lifetimes. Consumers have been spooked. They don't want to spend."
The ARA blames a combination of factors that have contributed to cost of living pressures for householders: rising utility bills, the fear of further hikes in interest rates before the end of the year and the flood levy imposed on taxpayers after the summer's Queensland floods.
Australian Prime Minister Julia Gillard's proposed carbon tax is also thought to have sown uncertainty in the minds of consumers, because they do not have a clear sense of how it will impact their pockets.
The strong Australian dollar, trading at 29-year highs, has also encouraged shoppers to go online and purchase from foreign-based websites. Many Australian shoppers have become online bargain hunters.
Eurozone effect
There are more generalised fears about Greece, the eurozone and a possible global downturn. And a drop in tourist numbers, caused in part by the high value of the Aussie dollar, has also had a knock-on effect in the shops.
The earthquakes in Japan and New Zealand are also thought to have shaken consumer confidence.
Even the uncertainty that followed last year's federal election, which saw the emergence of a minority government, could have have played a part.
Many retailers say shoppers stopped spending during the election campaign, which is not an uncommon phenomenon, but that sales never picked up afterwards.
"It's a culmination of all these things," says Mr Zimmerman. "Not one in particular, but they all mount up."
Nervous shoppers
David Jones, the country's second biggest department store chain, this month took the unusual step of issuing a profit warning.
After disappointing sales in April and May, the company said that sales have simply collapsed over the past six weeks. It is expecting revenue for the three months to July to slump by 11% over the same period last year.
"We are experiencing exceptionally tough times," said David Jones chief executive Paul Zahra. "Tougher than we have ever experienced before."
Some consumers are not even entering the stores, he said, and the company has responded by cutting the hours worked by its floor staff.
David Jones is known for attracting high-end shoppers, who would not normally be expected to feel the same cost of living pressures as low-income groups. But these consumers have been hit by falling property prices and volatile equity markets.
Interestingly, a recent consumer confidence survey showed that richer shoppers had become the most nervous.
Jessica Irvine, from the Sydney Morning Herald, says that retailers have pointed to a number of short-term scapegoats, such as the floods. But the main problem for retailers, she says, is that shoppers are no longer embarking on debt-fuelled spending sprees.
"The global financial crisis provided households with both the means to save - lower interest rates and cash handouts - and the motivation," she says.
"It helped them realise they couldn't just rely on debt-funded asset price gains to build wealth. If they wanted to build wealth, they'd have to do it the hard way, by saving."
'Kill retail'
Nobody is predicting a retail revival over the next six months, raising the spectre of more retailers closing stores or going into administration.
In June, more than 1,000 staff lost their jobs at the footwear and apparel chain, Colorado, after the company announced the closure of 140 stores.
Only this week, the Just Group, which owns High Street brands like Just Jeans and Jay Jays, announced the closure of 50 stores.
Shopping mall owners, like Westfield, are under pressure from retailers to offer rent holidays.
The ARA does not expect to see an upturn until 2012, and fears that a further hike in the cost of borrowing before then could be devastating.
It is lobbying the Reserve Bank of Australia (RBA) to keep rates on hold. "It's absolutely essential," says Russell Zimmerman. "A rise in interest rates would kill retail completely."
Westpac, one of Australia's four major banks, has actually predicted that the RBA will be forced to cut interest rates. It cited the economic crisis in Europe, and what its chief economist, Bill Evans, described as the "fragile consumer".
The difficulty for the central bank is that it is now dealing with a multi-speed economy, with the vital resources sector experiencing boom times, which are adding to inflationary pressures, while other sectors of the economy are heading in the opposite direction.
Inevitably, the success of the resources sector tends to grab the global headlines and drives the "wonder down under" economic storyline.
But for a very different take on the Australian economy just visit a shopping mall, where the retail sector is taking a hammering.