Deutsche Bank's profits hit by eurozone's debt woes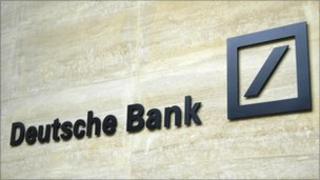 Deutsche Bank's latest profits have failed to reach market expectations, as it said it was affected by the turbulence caused by the continuing debt crisis in the eurozone area.
Its net profit for the three months to 30 June totalled 1.2bn euros ($1.8bn; £1bn), 6% higher than a year earlier.
Deutsche Bank's net revenues rose 19% to 8.5bn euros.
The German bank revealed it had needed to write down 155m euros from the value of its Greek government bonds.
Following a deal agreed at a eurozone summit last week, Greece will be asking bondholders to accept new bonds that pay less interest and have a longer lifespan.
On Monday, Deutsche Bank named Anshu Jain and Juergen Fitschen as its future new joint chief executives.
They will replace the current chief executive, Josef Ackermann, when he retires in May next year.