How do wholesale gas costs affect household energy bills?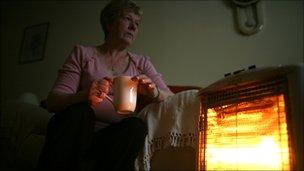 Political pressure is mounting on the UK's energy suppliers to rein in price increases.
It comes after the latest round of price increases by three of the big six energy suppliers.
They have all blamed their moves on higher wholesale energy prices.
But why does the wholesale market matter for household bills?
The first thing to understand is that companies selling electricity or gas to households normally do not produce all of this energy themselves.
Some of it is bought either as long-term supply contracts or on the wholesale energy market.
That is the bit of the energy bill that changes the most.
Other costs, such as running power plants, do not change overnight and will not jack up a bill by 20%.
Meanwhile even under long-term supply contracts, the cost often moves in line with the traded market.
That is because suppliers do not want to be locked into a fixed price for too long.
Instead they agree to let the price fluctuate, for example by tracking an index of wholesale transactions.
So will a simple check of the wholesale price show whether the energy suppliers are justified in pushing up prices?
It is not quite as simple as that.
There is not just one energy price in the market - there are many, and they keep changing.
Wholesale prices are set depending on what period the energy will be delivered for.
For example, an energy trader could strike a deal for a gas contract called Winter 2011.
What that trader is actually buying is gas shipped to a set delivery point between 1 October 2011 and 31 March 2012.
The winter contract will have a different cost to another delivery period - say Summer 2012 which is gas delivered between 1 April 2012 and 31 September 2012.
This cost will be different because demand and supply will vary.
In winter, for example, heating demand goes up.
Access to infrastructure also matters.
Imagine that a big pipeline shipping gas into Britain goes off-line or a large nuclear electricity plant needs maintenance.
Those changes will remove supply from the market.
If you picked just one particular contract in the energy market, could you see whether the 20% hike claim is true or not?
Once again, it is not as simple as that.
As mentioned, there are price differences between different delivery periods.
However energy also keeps being traded throughout the day, with prices changing second by second, much in the same way as stocks.
In fact, energy companies have in-house teams in charge of monitoring the market, buying and selling energy when they deem the price is right.
These traders take bets on where prices will move next, just like any financial dealer.
They either go short, in other words buying less than they need, or they go long, buying more than they need.
A utility is unlikely to buy the energy it needs to supply customers just once.
Instead, the in-house trading team might resell and buy back the energy several times before it is delivered, depending on price movements in the market.
This trading also helps the companies know their costs in advance.
If they buy power or gas for delivery in the future, and at a set price today, they eliminate the risk of a huge spike just days before they have to supply this energy to their customers.
All this means the company may have bought the energy it sells to you long before the prices started to rise in the energy market.
So it is hard to know whether a 20% price hike in any particular wholesale energy contract actually translates into a 20% rise in the cost for the energy company.
This will depend on how good - or lucky - its trading team is.
If they have outsmarted the market, costs could have risen less - or maybe even fallen.
If not, they could have gone up by even more.
Does this mean that energy suppliers can pick and chose which contracts to quote to justify a price increase?
Even the energy regulator has so far had to guess how much the companies have actually paid for their gas and power.
The wholesale prices do not tell the full story.
Why does the government not just cap household energy prices? Of course it could - if it still owned the energy providers.
But the fact is that it has liberalised the energy sector. Our energy suppliers are now private companies that expect to turn a profit.
To force them to sell below cost, the government would have to cover the shortfall itself or the energy companies might simply quit the UK market.
But why does competition not bring about lower energy prices?
The energy regulator Ofgem has probed whether the big six energy suppliers are colluding when they raise tariffs.
The verdict was that there is competition, rather than collusion, between the companies.
But tariffs are still likely to mirror each other. Every time one supplier announces a price hike, it becomes easier for others to do the same.
After all, these are private companies that need to maximise revenues for shareholders.
In the same way, a price decrease puts pressure on rivals to follow suit, so customers do not all switch to the supplier with the lowest tariff.
But with only six major companies in the market, the final choice for customers is always going to be limited.
The opinions expressed are those of the author and are not held by the BBC unless specifically stated. The material is for general information only and does not constitute investment, tax, legal or other form of advice. You should not rely on this information to make (or refrain from making) any decisions. Links to external sites are for information only and do not constitute endorsement. Always obtain independent, professional advice for your own particular situation.
Related Internet Links
The BBC is not responsible for the content of external sites.