Exxon profits up on higher oil prices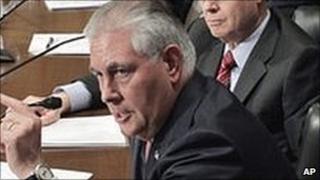 US oil giant Exxon Mobil has reported a rise in quarterly profits on the back of higher oil prices.
The company said that net profit rose to $10.7bn (£6.6bn) for the three months to June, up 41% from the same period last year.
The profit was its largest since the third quarter of 2008. The firm said production had risen by 10%.
Higher oil prices have also boosted rivals such as Royal Dutch Shell, which reported a 77% jump in profits.
The price of oil has surged in the past year, driven by political unrest in oil-producing countries.
The price of a barrel of benchmark US light sweet crude oil is up to around $97 a barrel currently, from $78 a year ago.
Record demand
Exxon said its increase in production had been driven by its fields in Qatar and its gas portfolio.
Chairman Rex Tillerson said the company was "investing at a record level of over $10bn to develop new supplies of energy to meet growing world demand".
In the quarter, Exxon announced two new oil discoveries and a gas field in the Gulf of Mexico after drilling the company's first deepwater exploration well since a moratorium on drilling in the area ended.
The moratorium was put in place following the huge oil spill last summer from the Deepwater Horizon well.
Earlier this week, BP announced second-quarter profits of $5.3bn.