James Murdoch gets BSkyB board's unanimous backing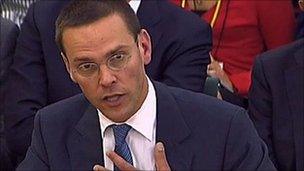 James Murdoch has received the unanimous backing of the BSkyB board to remain as chairman following the News of the World phone hacking scandal.
The decision to back Mr Murdoch will be formally confirmed in Friday's annual results statement, the BBC understands.
Doubts had been raised about Mr Murdoch's role in light of the scandal and his evidence given to MPs.
Prime Minister David Cameron has said he had questions to answer after this evidence was challenged.
Mr Murdoch told MPs he was not aware of any phone hacking beyond one "rogue" reporter, and had not seen any email suggesting the practice was more widespread.
However, two ex-NoW executives have alleged Mr Murdoch had been told about such an email.
Mr Murdoch has said he stands by his testimony.
News Corporation was forced to withdraw its bid to take full control of BSkyB, of which it already owns 39%, following the hacking scandal.
The company said it had become "too difficult" to progress with the bid, which it launched in June last year.
The Murdochs had already decided to close the News of the World newspaper.
BSkyB's share price has fallen by about 15% since the beginning of this month, and some shareholders have called on Mr Murdoch to step down.
As well as being chairman of BSkyB, he is deputy chief operating officer of News Corporation.
Related Internet Links
The BBC is not responsible for the content of external sites.