Starbucks coffee profits up by a third as sales jump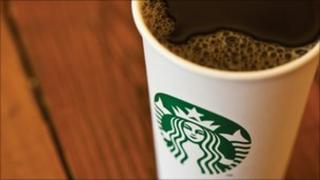 US coffee giant Starbucks has reported a sharp rise in profits and increased its full-year forecasts as global sales continued to grow.
Net income for the three months to 3 July was $279.1m (£170.5m), up 34% on the $207.9m the company made a year earlier. Revenue was up 12% at $2.93bn.
Like-for-like sales, which strip out the impact of new stores, rose by 8%.
The results were better than analysts had expected and Starbucks' shares rose in after-hours trading.
"Starbucks record third quarter results reflect both the underlying strength and continuing momentum we have been experiencing across all of our business segments and around the world," said chief executive Howard Schultz.
"Starbucks has never been healthier."
International revenues rose by 20%, while those in the US were up 9%.
Earlier this month, Starbucks unveiled a reorganisation of its global operations as aims to raise half of its revenues from outside the US.
The company currently earns less than 25% of its revenues from non-US operations.