Vodafone shareholders to get £2bn Verizon dividend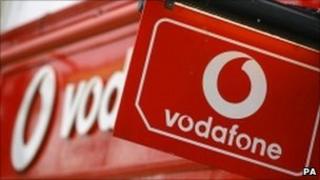 Vodafone shareholders will finally receive a return on the company's investment in Verizon Wireless after the US telecoms firm approved the payment of a $10bn (£6.1bn) dividend.
Vodafone owns a 45% stake in Verizon, and so will receive $4.5bn, due to be paid on 12 January next year.
Shareholders will then get a special dividend of £2bn, equivalent to 4 pence a share, in February, the company said.
The balance of the dividend will be used to reduce debt levels.
This is the first dividend Vodafone shareholders will have received from Verizon.
"Our long term partnership in Verizon's strong and successful wireless business has seen the value of our investment increase significantly over recent years," said Vittorio Colao, Vodafone's chief executive.
"The dividend from Verizon Wireless allows us not only to reward our own shareholders with an immediate and sizeable cash return, but also to continue to reinvest in our business.
Last week, Vodafone reported a small rise in quarterly service revenues, as weak trading in southern Europe was offset by strong growth in India and Turkey.
The company also confirmed its outlook for the full year, which had previously been stated as an adjusted operating profit of between £11bn and £11.8bn.