Samsung profits drop 18% on falling TV sales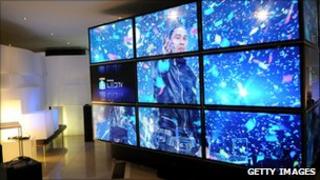 Samsung has become the latest electronics maker to report a drop in profits due to a weak demand for TVs.
Samsung said net profit was 3.5tn won ($3.3bn; £2bn) in the second quarter, an 18% drop from a year earlier.
The company said its TV unit made a loss for the second successive quarter as sales of Liquid Crystal Display's (LCDs) fell 15%.
On Thursday, Sony reported a loss of $199m for the first quarter due to falling TV sales.
Analysts said weak demand for TVs would continue to hurt its profits in the short term.
"It will be difficult to boost earnings sharply in the third quarter as demand for memory chips and TVs will continue to remain depressed," said Song Myung-sup, an analyst at HI Investment & Securities.
"Its loss-making flat-screen business will also report break-even at best," he added.
However, the company reported robust growth in its mobile phone business with a 43% surge in sales.
Profits in the telecom unit rose by 6.3% from a year earlier to 1.7tn won.