Total and Eni blame profit falls on conflict in Libya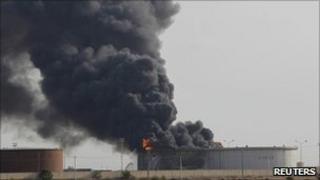 Oil companies Total and Eni have both blamed profit falls on the conflict in Libya disrupting their production in the north African country.
France's Total saw its net profit decline 12% to 2.73bn euros ($3.89bn; £2.4bn) in the three months to 30 June.
Also affected by maintenance work reducing output at its oil rigs in the North Sea, this compares with a profit of 3.1bn euros a year earlier.
Profits at Italy's Eni for the same quarter were down 31% from a year ago.
Eni's net profit totalled 1.25bn euros, compared with 1.82bn euros.
The two companies have substantial investments in Libya.
'Volatility'
Total chief executive Christophe de Margerie said: "The combination of sustained global demand and geopolitical troubles increased tensions in the oil market during the second quarter."
Despite the company's latest results failing to meet market expectations, Total said it remained confident going forward, highlighting its successful exploration work in Bolivia and Angola.
Mr de Margerie added: "Total begins the second half of 2011 very confident in its outlook for profitable growth."
Eni said 2011 would continue to be "characterised by a certain degree of uncertainty and volatility".
Yet it said it was now benefiting from new fields coming into production in the US, Democratic Republic of the Congo, and Italy.
Total and Eni's weak results come after rivals Exxon, Shell and BP all announced a big rise in profits.