Top directors get pensions of £175,000, report says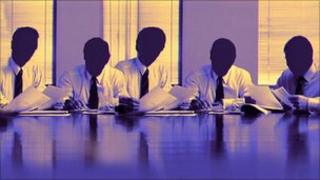 Directors at the UK's top companies are retiring on pensions of about £175,000 a year, a survey has said.
The High Pay Commission (HPC) said FTSE 100 directors received pensions of up to 29 times the rest of the workforce.
It comes at a time when many employee pension schemes are being closed or becoming less generous.
The HPC said about 97% of FTSE 350 firms have kept open company-sponsored schemes for directors, but only one-third have stayed open for workers.
Many directors were now getting cash supplements in lieu of pension payments, HPC chairwoman Deborah Hargreaves told the BBC.
"Employees are being called on to cut back as employers cut costs. What we are highlighting is that directors are looking after themselves," she said.
Although there have been changes in tax relief for top rate pensions, she said the government should look at further changes for all higher rate taxpayers.
Changes
The most recent data from the Office for National Statistics shows that the lowest paid are least likely to be members of occupational pension schemes.
Workplace pensions are seeing significant change, with UK companies saving billions of pounds by switching the inflation-proofing of pensions from the Retail Prices Index (RPI) to the slower-growing Consumer Prices Index (CPI) - affecting all employees, regardless of earnings.
But not all companies can make the change, as the rules in some pensions schemes prevent this happening.
In the public sector, the government has announced plans for workers to make increased pension contributions.
Those working in the NHS, civil service and teaching staff earning less than £15,000 a year will not pay any extra contributions, but the government wants those on the highest levels of pay to contribute up to 2.4 percentage points more in 2012-13.