UK retail sales saw a small rise in July, says BRC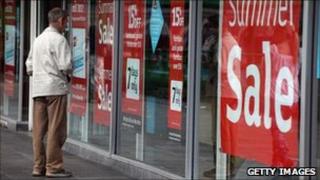 High Street sales rose in July, but trading remains tough, according to a British Retail Consortium survey.
The BRC said like-for-like sales were 0.6% higher on July last year, when sales had risen 0.5%.
On a total basis, sales were up 2.5%, against a 2.6% increase in July 2010.
The BRC warned that much of July's rise was due to clearance sales and "consumer confidence needs to be restored quickly before spending paralysis sets in".
Discounting in July was extensive in clothes and footwear. The BRC also said that online and mail order sales growth slowed to a near two-year low after a clearance uplift the previous month faded.
BRC director general Stephen Robertson said: "This is a modest improvement on recent months but overall conditions remain very difficult for retailers.
"When you take into consideration inflation and January's increase in VAT, 2.5% growth effectively means people are buying fewer goods," he said in a statement.
Food sales growth picked up in July after a poor June. "But shoppers were only tempted into stores by an unprecedented number of promotions which come at the expense of margins," Mr Robertson said.
Howard Archer, chief European economist at IHS Global Insight, warned that July's rise in sales could be short-lived.
"It is highly likely that once clearance sales are over, or the best of the bargains are gone, consumers will quickly put their hands back in their pockets," he said.