Will the 2010s be a 'lost decade'?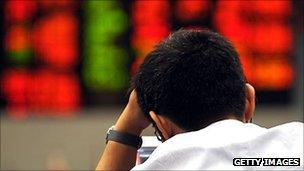 Some economists fear the 2010s could be a "lost decade", with very little economic growth. So, what might petrol, energy and food prices, and wages look like in 2020?
2011 has already proved one of the most financially eventful years in history.
The past eight months has already delivered a record-breaking run of price rises - energy costs being amongst the most startling.
Five of the UK's big six energy providers have recently announced large price rises.
The average annual bill for average consumption on a standard tariff will be £1,245 ($2060) this year, according to Joe Malinowsky of the comparison website, TheEnergyShop.com.
And he believes bills could be 50% higher again by 2020:
"On some relatively conservative estimates on where wholesale gas and electricity prices might be heading, we are looking at bills hitting £1,800 a year for the average household in ten years' time," Mr Malinowsky says.
"Currently around 8 per cent of the bill compromises environmental and social costs, but that component is going to be escalating quite dramatically."
It is estimated that more than six million households are in fuel poverty in the UK. Mr Malinowsky fears that figure could rise by another two million by 2020.
But it is not just energy prices that have been hitting the headlines this year.
There is little chance it is going to get any cheaper, according to Malcolm Bracken, oil analyst at stockbrokers Redmayne Bentley, who suggests it could get as high as £2.50 a litre by 2020:
"Although I don't really expect the oil price to rise significantly, I expect tax will," he says.
"Although the government's frozen fuel duty for the next couple of years, it will pick up and rise with inflation. I fully expect the government to catch up their lost time as petrol is always a very easy revenue raiser."
The financial climate is already affecting the choices we make in the supermarket. Shoppers are increasingly taking advantage of promotions to help mitigate the full impact of food inflation, according to the British Retail Consortium.
Year-on-year food inflation stands at 5.2%.
We are in extraordinary times for food prices, according to the Financial Times' commodities editor, Javier Blas.
You might therefore expect food prices to eventually fall back to the lower levels we got used to in the 1990s and early 2000s.
But this will not happen, according to Mr Blas.
"In 10 years time we [will still be paying] very high prices for food in the UK".
The outlook is particularly gloomy for that essential to the British way of life - the cup of tea.
"Tea is going to be under pressure particularly as climate change is affecting sub-Saharan Africa, Mr Blas says.
"A big producer, Kenya, has seen droughts very recently and that is going to continue over the next few years.
"So probably the very low prices that we saw for tea in the 1990s is something of history, and we're going to have to get used to paying higher prices."
Milk and sugar are also likely to be expensive in 2020, he warns.
So many experts fear the cost of living is going to be high in 2020. But will life feel as expensive as it sounds? Will pay keep pace with price inflation?
The latest figures show the UK median annual salary of full-time employees is £25,879.
Annual wage growth will be slow in the first half of the coming decade and will then pick up to 3% in the latter years, according to John Philpott, chief economist at the Chartered Institute of Personnel and Development.
"That would take the median wage in 2020 to around £34,000," he believes. "People would be a bit better off in real terms, although not as well off as they were in the 2000s."
But he adds the caveat that "during this period to 2020, we're also [likely to see] an increase in the tax burden".
And, as he points out, averages can hide some hard truths. People in the top ten per cent of earners will see their wages grow more than those on lower incomes.
"At the lower end of the pay distribution, it's possible that people not only won't be any better off in real terms by 2020, but could actually be worse off."
Of course, so much of how squeezed we might be in 2020 depends on the health of the economy over the next few years.
The future of the UK is hard enough to predict when you are basing your assumptions on the way things have gone before.
But there is another scenario that is being discussed in financial circles.
What if the country's future bears more resemblance to the past of another country: Japan?
In the early 1990s, a stock and property market crash led to years of very low economic growth and high unemployment, and it became known as the "lost decade".
Could that be what the UK is facing?
"Certainly a lost decade isn't out of the question; we'd give it a probability of 5-10%," says Andrew Goodwin, adviser to economic forecaster, the Ernst & Young ITEM Club.
"And were we to have a lost decade like the one that Japan had, then certainly life would be quite different from anything we've experienced before.
"You'd see unemployment remaining very high for a very long period and you'd see very little in terms of earning growth, because there would be so many people out there looking for work that it would force earnings growth down."
However, not all economists agree.
"I think it depends on what you mean by a lost decade," he says.
"We have seen some recovery from the trough of the recession. Part of the difficulty in knowing where you're getting back to is how the underlying potential of the economy has been changing, and how the recession has affected that.
"So one of the challenges in producing forecasts over that period is in thinking about how long is it going to take the economy to get back to normal.
"We don't really know exactly what 'normal' is going to look like in the new post-recession, post-crisis world."
Related Internet Links
The BBC is not responsible for the content of external sites.