Stagecoach plans to return £340m to shareholders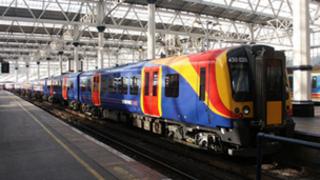 Stagecoach plans to return £340m to its shareholders, a move that would see its chief executive Brian Souter, who owns 15.1% of its shares, receive £51m.
If the plan is approved, shareholders will get 47p per ordinary share held.
Mr Souter's sister and fellow founder of the Perth-based transport group, Ann Gloag, is in line to receive £37m.
The company also said revenues at its main UK rail businesses had risen 8.4% in the three months to 24 July, while its UK bus revenues rose 2%.
The 8.4% increase in rail revenues applies to the South West Trains and East Midlands Trains franchises, while revenues at Virgin Rail, in which Stagecoach has a 49% stage, rose 11%.
Stagecoach added that it was on course to meet its full-year profit targets.
The company last made a special payment to shareholders in 2007 when it returned £700m.
In June this year, Stagecoach said higher petrol prices were persuading more people to switch to using public transport.