Sri Lanka gives Maldives $10m import credit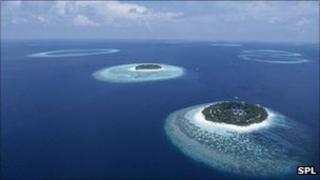 The government of Sri Lanka has granted a $10m (£6.1m) import credit to the Republic of Maldives.
Analysts say the agreement signed in Colombo on Thursday during a visit to the island by President of Maldives, Mohammed Nasheed, is mutually beneficial to both countries.
The Maldives archipelago which mainly relies on the tourism industry is currently facing a foreign exchange crisis, according to Amal Jayasinghe, the AFP bureau chief in Colombo.
"Maldives is among few countries in the world that does not collect any income tax," he told BBC Sinhala service.
"It is therefore struggling to balance the government spending sheets."
Sri Lankan fruit
The credit facility, which will be administered through state-run Bank of Ceylon, will help Sri Lanka to increase its export earnings, the Sri Lankan government said in a statement.
"The credit facility is expected to encourage the Maldives to import food supplies, especially fruits and vegetables from Sri Lanka to the hotels in the atolls," it said.
Amal Jayasinghe says although both parties benefited, Sri Lanka practically had no other option than to agree to the arrangement.
"India has granted more credit to Maldives than Sri Lanka. Maldives would have stopped trading with Sri Lanka had the deal failed," he told the BBC.
President Nasheed has meanwhile revealed that Sri Lanka agreed to construct a new road to help preparations of the upcoming South Asian Association for Regional Cooperation (SAARC) summit in Maldives.
"The President noted that this line of credit to the Maldives, will provide additional opportunities to merchants importing goods from Sri Lanka, and ease the difficulties being faced due to the shortage of foreign currency," the president's office said.
Sri Lanka government added that Maldivian government will take measures to remove more customs duties on goods imported from Sri Lanka.