Qantas annual profit doubles as takeover rumours swirl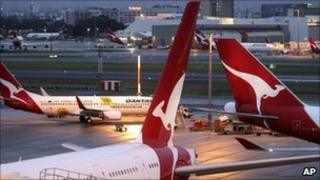 Australian carrier Qantas Airways has seen annual profits double, as strong domestic demand offset a drop in its international business.
Net income in the year to the end of June was 250m Australian dollars ($262m;£159m) from A$112m a year earlier.
Qantas shares gained amid speculation it was a possible takeover target.
However, despite the profit jump Qantas has been hit by a number of issues such as natural disasters and strikes.
"Shares are trading at about half of what most analysts would reckon they're worth. They're so cheap, making Qantas a soft target," said Peter Harbison, a managing director at the Centre for Asia Pacific Aviation.
Qantas Chief Executive Alan Joyce said takeover talk was "pure speculation" and said the company had not received any formal approaches.
Home and away
The airline, which controls 65% of the Australian aviation market, said its domestic business was helped by the strength of the economy and a widening of its network.
"Qantas remains the most profitable domestic airline," the company said in its statement.
"We strengthened our business travel credentials with new aircraft and new airport infrastructure, while the acquisition of the Western Australia-based charter airline Network Aviation increased our presence in regional Australia."
By comparison, its foreign business is doing less well, and Qantas said its international unit was losing about A$200m a year mostly due to higher fuel prices, wages and a stronger Australian dollar.
The carrier has also been facing increased competition on long-haul flights, where rivals such as Emirates and Singapore Airlines have expanded into Australia and have offered cheaper ticket prices.
Qantas Chief Executive Mr Joyce warned that the future operating environment was "challenging and extremely volatile".
The company is now betting its future growth on Asia's fast-expanding travel market, and is planning to move its international operations out of Australia and develop its budget airline Jetstar.
The Sydney-based carrier also plans to cut 1,000 jobs, and will launch a new premium, Asia-wide service and set up a budget carrier focusing on the Japanese market.
More problems?
The restructuring plans are facing opposition from labour unions, and the company has already had to deal with strikes that have hurt its earnings and grounded flights.
Unions have said that they will try to drum up shareholder support and force a vote of no confidence against the Qantas management at the firm's next annual meeting. They have also threatened strike action.
Mr Harbison from the Centre for Asia Pacific Aviation told the BBC that industrial action had been enormously damaging to Qantas's business, adding that it could complicate matters in coming months as well.
"They don't need to strike, just threaten to strike and 10% of passengers will book away from Qantas," he explained.
However, it's this sort of problem that has fuelled the takeover speculation, because the issues have caused Qantas's share price to drop to a record low on Monday.
In 2006, Airline Partners Australia (APA), led by the Allco Finance Group, made an unsuccessful A$11bn offer for the airline. The bid was backed by the Qantas board but failed to win sufficient shareholder approval. Allco later folded.