Viewpoints: Can Asia survive a global economic slowdown?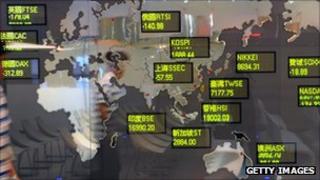 Asian markets have been gripped by fears of a slowdown in the global economy.
Weak economic data from the US coupled with the ongoing debt crisis in Europe has raised concerns that growth in the world's two largest economic zones might slow.
Fears have been fanned further after Morgan Stanley downgraded projections for global growth and said the US and Europe were "dangerously close to recession".
There are concerns that an uncertain economic outlook will hurt consumer demand in developed countries and affect growth in the export-dependent Asian economies.
Some of Asia's biggest economies, such as China and Japan, rely heavily on demand from the US and Europe to boost economic growth.
However, economists across the region said that while a slowdown in developed economies would hurt, growing domestic demand from within the region could help cushion the impact.
Paul Gruenwald
Chief economist Asia, ANZ Bank
From an Asian perspective, recent market developments look less severe (so far) than 2008.
While asset price declines have come harder and faster, markets have been less disorderly and the sharp inventory adjustment that hit Asia three years ago has been absent.
Moreover, our analysis shows that in the post-global financial crisis period there has been a pick-up in intra-regional trade driven by Asian demand, which has led to increased "delinking".
This has been more robust in the larger, less open, economies of China, India and Indonesia, which we expect to lead regional growth.
That said, we continue to watch closely for signs of contagion from developments in Europe and the US.
The three main channels are:
Volatile capital flows, particularly as regards Asia's deficit countries
Intra-bank funding stress, which spilled over to Asia in the global financial crisis during 2008
Foreign demand shocks, which we see are already having relatively outsized effects on Asia's smaller, more open, economies.
Rajiv Biswas
Chief economist Asia-Pacific, IHS Global Insight
Recent US and European Union economic data is increasingly concerning, showing clear signs of weakening growth.
The impact of the US and European Union economic slowdown will certainly hit the Asia-Pacific region through weakening trade and investment flows. The most export-dependent economies of East Asia, including Singapore, Hong Kong, South Korea and Taiwan, will be the most vulnerable.
However, the impact on Asian growth will be mitigated by continued strong growth in China, the world's second largest economy, and a growth rebound in Japan due to post-disaster reconstruction.
India is also expected to record quite strong growth in 2012, albeit its weight in the global economy is still much lower than China's.
Moreover, Asia-Pacific economies have become more resilient to external shocks due to major reforms undertaken since the East Asian crisis to reduce government debt levels, increase foreign exchange reserves and strengthen banking systems.
Therefore the Asia-Pacific economies are better positioned to handle a global economic slowdown, and most still have leeway for fiscal stimulus measures should the global economy slow significantly.
Prof Patrick Chovanec
Tsinghua University Beijing
For the past year, ever since the eurozone crisis started to unfold, and it became clear the US was experiencing a very sluggish recovery, there's been a great deal of apprehension in Asia, and China in particular, about a double-dip recession.
The big fear for China is that it will find itself back where it was at the end of 2008, with exports falling off a cliff because of a drop in US and European consumer demand.
If China does find itself in that situation again, there will be a very strong temptation for it to adopt the same response as last time around - a massive monetary stimulus that propped up the economy by financing a huge investment boom.
The problem is that China is already experiencing the hangover effects of that stimulus, in the form of burgeoning bad debts and rising inflation.
It can't repeat the same thing again without making those problems much worse, and even precipitating a real economic meltdown at home.
The real solution, which China should have embraced much earlier, is to shift its economy away from a dependence on exports and investment to domestic consumption. But so far, the Chinese have been reluctant to do this, and if they try another round of stimulus, printing money to jack up investment, they're going to be entering a real danger zone.
Wellian Wiranto
Asian economist, HSBC
As we face an acute sense of unease due to dismal global headlines day in day out, it is understandable that parallels will start to be drawn with the 2008 global financial crisis.
While Asia will not be completely immune from any sharp and protracted global downturn, it is important to bear in mind that the region maintains enough buffers that will prevent it from being dragged down in tandem as precipitously as before.
For the most export-dependent economies, a diversification of end destinations for their shipments since 2008, away from the developed world, has been timely.
China, for instance, with its gradual but meaningful shift towards domestic consumption, has become an increasingly important export destination for Asian economies. While there were concerns about hard-landing earlier, the authorities appear to have found the right tools to manage a moderation of growth.
Apart from China, India and, increasingly, Indonesia will come to be looked upon as anchors of "DIY" growth in the region. Tellingly, Indonesia is standing at the cusp of attaining investment grade despite the dark clouds out there.
All in all, even as other Asian economies cannot avoid the squeeze as readily, the pinch will feel more tempered than before, courtesy of the growing importance of fellow emerging market consumers.
Marc Lansonneur
Regional Head of Investment Teams and Market Solutions, Societe Generale Private Banking Asia-Pacific
The situation is less dramatic and very different from the financial point of view.
During the 2008-09 crisis, there was a real systemic risk on financial markets amid poor understanding and visibility on how many toxic assets were held by the banks and financial institutions balance sheets.
In the current sovereign debt crisis, the figures of exposures taken from the governments and the corporate sector are well-known.
In 2008-09 the crisis affected all asset classes as panic and risk aversion reached unexpected levels.
The recent lack of trust in world markets has caused significant correction, mainly on equities, with other assets classes remaining relatively spared.
Also, in the current scenario, the major difficulties will take some time to be resolved and could put the world economy in a slow growth motion; while sovereign debts must be addressed in Western economies, overheating and inflation risks must be tamed in emerging economies like Asia.
While China and India are major economic forces in the world economy and their growth will continue, the countries have their own issues and will also be hit.
Both countries must control their inflation and public debt and make sure that their financial sectors remain robust.
To summarise, 2008-09 was like being a dark tunnel with no idea when it's going to end, but this time around, we can see relatively more light.