Bank of China profits jump 30%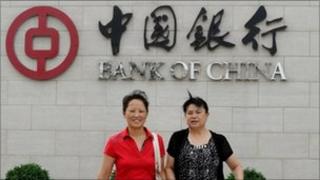 China's third biggest bank, Bank of China, has reported a 28% rise in profits for the first half of 2011.
Profit after income tax was 70.1bn yuan ($11bn;£6.7bn), compared with 54.4bn yuan in the same period a year earlier.
The results were slightly better than analysts had expected.
The bank put the rise partly down to higher customer numbers and earning more income from sources other than interest on deposits.
Bank of China, the first of China's Big Four banks to report half-year profits, also warned that international markets remained "sharply precarious".
"The recovery of the global economy is facing growing uncertainty and instability," the Bank added in its statement.
But the Hong Kong-listed bank tried to reassure investors by saying it would be continuing with its product diversification and international expansion in an attempt to further expand its profitability.
Its shares have lost almost a third of their value since their peak in November last year.
Investors have been concerned that the size of its loan book, which has expanded rapidly in the past two years, opened it to a greater risk of defaults.
Others have cited their holdings of foreign assets - the biggest amongst China's banks - as a cause for concern, as the rise in the value of the yuan has made these less profitable.