Trichet wants swift implementation of Greek measures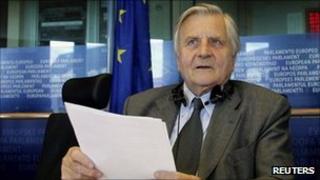 European Central Bank (ECB) president Jean-Claude Trichet has called for swift action to help Greece.
He urged eurozone governments to rapidly implement the 21 July agreement, which allows for a second bailout.
His comments to the European Parliament's economic affairs committee echo those of European Commission President Jose Manuel Barroso.
Swift implementation may be unlikely as legislators are just returning to work.
"The full and timely implementation of the July 21 agreement between heads of state or government is of essence," he said.
The latest problem for the implementation of the second bailout is that the government of Finland wants collateral for its fresh loans to Greece.
Talks were held between Finnish and German officials on Monday to find a compromise position, with both sides voicing optimism that the timetable could be met.
Jean Claude-Juncker, the Prime Minister of Luxembourg who also chairs the meetings of eurozone finance ministers, said the collateral issue would not endanger the bailout.
"The eurogroup is working on a proposal, which I hope all eurozone member states will be happy with," he said.
The EU approved a 109bn euro ($158bn; £96bn) package of aid for Greece in July as well as 50bn euros from private sector bondholders, who are being asked to agree to roll over some of their existing bonds.
Lower growth prospects
The EU's economic and monetary affairs commissioner Olli Rehn also addressed the committee on Monday.
He said that the targets set for Greek privatisations might have to be revised because of falls on the Athens stock exchange.
"The value of some of the assets earmarked for privatisation has been declining in recent quarters," he said.
"In case of difficulties in meeting the targets, the rhythm of disposal of state-owned assets and the stakes offered for sale could be revised in order to ensure the quarterly privatisation targets are achieved."
He added that the recent turmoil on the financial markets had contributed to short-term growth prospects having "somewhat worsened compared to our spring forecast".
The European Commission had predicted the eurozone would grow by 1.8% this year. It will release a new forecast on 15 September.
"The financial markets and the real economy move now more in synchrony, which makes me seriously concerned about continued financial turbulence spilling over to and potentially harming the recovery of the real economy," he said.