Mortgage approvals start rising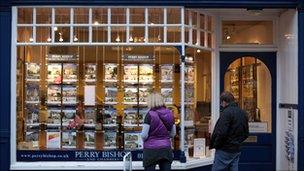 Mortgage lending to house buyers is starting to pick up, according to the latest figures from the Bank of England.
In July, a further 49,239 mortgages were approved, but not yet lent, to house buyers.
That was the third monthly increase in a row and means approvals were 3% higher than in July last year.
The figures suggest that sales may start to rise gently in the coming months.
Adrian Coles, director-general of the Building Societies Association (BSA), said the pick-up in approvals had been reflected in increased lending by building societies and mutually owned banks.
"In the first seven months of the year, mutuals have approved an additional 16% worth of mortgages compared to the same period last year," he said.
So far this year, completed sales have stagnated.
Last week, figures from HM Revenue & Customs (HMRC) showed that 79,000 homes were sold in July in the UK.
Although this was the highest level of sales so far this year, it was still lower than a year ago.
Howard Archer, at IHS Global Insight, said activity in the housing market was still very low compared with "long-term norms".
"With consumer confidence weak and the economic outlook currently looking pretty grim, we see little reason to change our view that modest falls in house prices are more likely than not over the coming months," he said.
Other figures from the Bank highlighted how consumers have reduced their borrowing since the banking crisis of 2008.
The total amount of outstanding consumer credit - such as bank loans, overdrafts, hire-purchase deals, student loans and credit card debts - fell again in July, to £209.4bn.
That was the lowest level since September 2005 and down by 12% from September 2008's peak of £236.8bn.
Mortgage lenders have set up a formal arrangement with the tax authorities to cross-check borrowers' income information on their mortgage applications.
The move is part of the continuing attempts to combat mortgage fraud, which amounted to an estimated £1bn last year.
Lenders will be able to send suspicious application forms to a special unit at HMRC which will check an applicant's purported income against their tax details and those supplied by their employer.
In turn, the tax authorities will use the lenders' information to check if an applicant's tax returns were accurate.
Paul Smee, director general of the Council of Mortgage Lenders (CML), said: "Lenders have found during the pilot that the scheme has been very useful in helping them to lend responsibly.
"It has helped them to avoid lending in some cases where there is a risk of fraud, at the same time as giving them confidence about the borrower's credentials in some cases that they might otherwise have felt compelled to refuse."
Related Internet Links
The BBC is not responsible for the content of external sites.