AT&T and T-Mobile USA deal challenged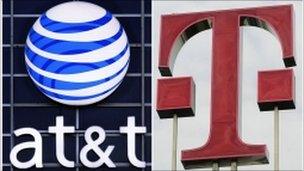 US telecoms giant AT&T's bid to buy rival T-Mobile USA could be facing collapse after the US government sued to block the $39bn (£24bn) deal.
AT&T agreed to buy the firm from Deutsche Telekom in March, aiming to create the largest US wireless network.
But the Justice Department says the merger would lead to higher prices and restrict choice, and has requested a court order to stop it going ahead.
AT&T said it would fight the government's move.
It said it would be seeking a court hearing "so the enormous benefits of this merger can be fully reviewed".
AT&T added that the Justice Department "has the burden of proving alleged anti-competitive effects, and we intend to vigorously contest this matter in court".
In a statement, Deutsche Telekom, said it was disappointed by the Justice Department's action and it would "join AT&T in defending the contemplated merger".
AT&T's bid to buy T-Mobile would give AT&T about 43% of the US mobile phone market.
However, it cannot go ahead without approval from both the Justice Department and the Federal Communications Commission (FCC).
"The combination of AT&T and T-Mobile would result in tens of millions of consumers all across the United States facing higher prices, fewer choices and lower quality products for mobile wireless services," said Deputy Attorney General James Cole.
"Consumers across the country, including those in rural areas and those with lower incomes, benefit from competition among the nation's wireless carriers, particularly the four remaining national carriers. This lawsuit seeks to ensure that everyone can continue to receive the benefits of that competition."
The Department of Justice argues that the merger would combine two of the four firms who provide 90% of the mobile phone services in the US.
It said T-Mobile had been a "disruptive force" in the industry, aggressively driving down prices.
If the deal is prevented from going ahead, AT&T could have to pay T-Mobile several billion dollars in fees.
But the uncertainty and delays caused by the launch of legal action could also be damaging, analysts suggested.
"The uncertainty created poses several very difficult decisions for AT&T, especially in terms of network investments," said Jan Dawson from telecoms analysts Ovum.
"All this is happening at precisely the time when AT&T needs to accelerate its 4G rollout to keep up with Verizon, Sprint and others who are much further ahead," he said.
Improvements in wireless broadband services were one of the benefits of the takeover cited by AT&T.
It claimed that its takeover of T-Mobile in the US would create up to 96,000 jobs as a result of its additional $8bn investment in infrastructure.
Some of this money will go into improving its wireless broadband service, taking its faster LTE or 4G network to 97% of Americans, it said.
Earlier, AT&T had also said it would repatriate 5,000 call-centre jobs from overseas if regulators approved the deal.
The former monopoly was broken up by regulatory authorities into eight separate companies in the early 1980s.
AT&T has grown through a serious of mergers since then, with Pacific Telesis, Ameritech and Southwestern Bell joining together to form SBC, and then SBC buying AT&T, BellSouth and Cingular, Jan Dawson explained.
"The fact that the Department of Justice is stepping in now is a sign that it wants to draw a line in the sand and forbid further consolidation among major players in the industry, and especially AT&T," he said.
Related Internet Links
The BBC is not responsible for the content of external sites.