English Premier League summer spending hits £485m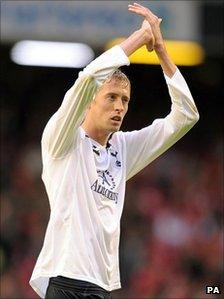 English Premier League clubs spent £485m in the summer transfer window, business analysts Deloitte have said.
Spending by the 20 English top-flight clubs was up £120m, or 33%, on last summer's outlay, Deloitte added.
Deadline-day signings included Mikel Arteta joining Arsenal from Everton and Raul Meireles leaving Liverpool for Chelsea - both for more than £10m.
Arsenal, Chelsea, Liverpool, Manchester City and Manchester United each topped £50m of transfer spending this summer.
In total these five clubs have committed to about 66% of Premier League clubs' transfer fees in the summer transfer window.
The transfer window closed at 23:00 BST on Wednesday.
Deloitte's Dan Jones said the "significant" increase meant clubs were spending again at the level seen between 2007 and 2009.
"This summer's spending is largely focussed amongst the top end Premier League clubs most strongly competing for domestic and European success and the consequent financial rewards," said Mr Jones, partner in the Sports Business Group at Deloitte.
Other significant transfers included Scott Parker moving from West Ham to Tottenham Hotspur for a reported £6m, while Stoke City broke their transfer record to bring Peter Crouch from Spurs for £10m.
Transfer fees to overseas clubs were about £205m, 25% down on the level in summer 2010.
This outlay to foreign clubs represents 42% of total transfer fees committed by Premier League clubs, compared to an unusually high figure of 75% in 2010.
Meanwhile, clubs spent about £165m on English players, being about 34% of their total spending of £485m ($788m).
Mr Jones added: "The football authorities' encouragement for home grown players has contributed towards the increased scale of fees for the transfer of young English talent this summer.
"The resurgence of transfer spending is also apparent in other top European leagues.
"Despite domestic difficulties delaying the start of their seasons, transfer spending is considerably up amongst clubs in Serie A and La Liga."
Meanwhile, Deloitte says that clubs in the Football League have reportedly spent around £30m in summer 2011.
"Net of amounts received from Premier League and overseas clubs, the Football League clubs benefit from a net inflow of around £60m this summer; significantly up on summer 2010 (£25m)," the Deloitte report said.
Related Internet Links
The BBC is not responsible for the content of external sites.