S Korea inflation at three-year high on food price jump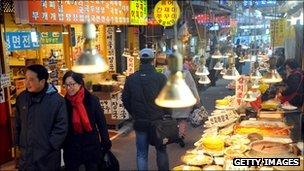 South Korea's inflation rate hit a three-year high in August as higher food costs continued to put pressure on consumer prices.
Prices in August rose by 5.3% from a year earlier, latest data showed, up from a 4.7% increase in July.
This is the eighth successive month that inflation has remained above the central bank's target of 4%.
However, analysts said that despite the surge in prices, the central bank may not raise interest rates immediately.
"Although inflation was high in August, external uncertainties such as a US economic slowdown and European debt problems remain," said Park Sang-Hyun of Hi Investment & Securities.
"It will therefore be tough for the Bank Of Korea to raise interest rates this month." he added.
The jump in consumer prices has come despite measures by the central bank to rein in price growth.
The Bank of Korea has raised interest rates three times this year in a bid to control rising consumer prices.
To make matters worse for the central bank, data out on Wednesday showed that factory output in Korea fell 0.4% in July, from a year ago.
Meanwhile, authorities have also had to juggle between looking to boost domestic demand while trying to control the surging household debt in the country.
While the authorities have said that fighting rising prices is one of their top priorities, analysts said the combination of these other factors had limited the central bank's options.
"The recent tightening of loan regulations by the government has already put an additional burden on the domestic economy," said Suh Dae-Il of Daewoo securities.
"It is unlikely that the Bank of Korea will exercise monetary policy at the risk of further slowdown."
Related Internet Links
The BBC is not responsible for the content of external sites.