China manufacturing sees first expansion in four months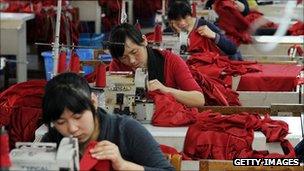 Manufacturing activity in China expanded for the first time in four months despite concerns of a slowdown in its key markets.
China's Purchasing Managers Index (PMI) rose to 50.9 in August from 50.7 the previous month, the China Federation of Logistics and Purchasing (CFLP) said.
The PMI is a key indicator of the health of the manufacturing sector with a reading above 50 showing expansion.
Despite the growth, CFLP said the sector still faced tough times ahead.
"From the demand point of view, there are still many uncertainties," Zhang Liqun of CFLP said.
The success of China's manufacturing sector has seen the country become the world's largest exporter and its second-largest economy.
However, demand from its key markets such as the US and Europe has been falling as growth in those economies slows.
This was evident as CFLP's data showed that the index for new export orders fell by 2.1% in August to 48.3.
"The fairly big drop in the new export order index showed that Chinese exports may weaken significantly in the future," CFLP's Mr Zhang said.
Analysts said that given the deteriorating outlook for its export sector, they expected China's pace of growth to slow.
"We are expecting the continuation of the current trend, which is essentially a gradual release of some steam from the economy," Duncan Innes-Ker of the Economist Intelligence Unit told the BBC's Asia Business Report.
While orders for Chinese manufacturers have declined, they have also been hit hard by the higher cost of raw materials.
The input price sub-index, a key measure of how much factories pay for raw materials, rose to 57.2 in August from 56.3 in July.
"Purchasing prices continue to rise in August, showing growing pressure on the corporate cost side," Mr Zhang said.
Analysts said rising commodity prices were playing a huge role in increasing manufacturers' costs.
"This is a big concern as it puts added pressure on margins especially for companies that are not able to raise their productivity," the Economist Intelligence Unit's Mr Innes-Ker said.
Related Internet Links
The BBC is not responsible for the content of external sites.