Australia business spending increases in second quarter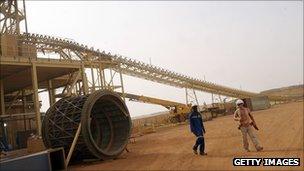 Australian firms spent more money to expand their businesses in the second quarter, an indicator that they expect the economy to grow.
Capital expenditure was 33.6bn Australian dollars ($36bn; £22bn), a 4.8% increase from the same period a year earlier, latest data showed.
The Australian Bureau of Statistics said firms were planning to further invest A$149bn in the financial year.
The data comes amid rising concerns of a slowdown in the Australian economy.
"It's nice to see that you are going to get a cycle here that is led by very strong expansion in capital spending," said Ban Jarman of JP Morgan.
In a further boost to Australia's economy, data out on Thursday showed that retail sales in the country increased for the first time in three months.
Sales rose by a better-than-expected 0.5% in July, compared with the previous month.
The jump in sales comes after Reserve Bank of Australia said last month that consumer confidence in the country had fallen to "below-average levels".
"It is a little bit of relief with the retail trade numbers after what had been lost territory in the last couple of months." said David De Garis of National Australia Bank.
Australia's economy shrank by 1.2% in the first three months of the year.
Last month, the Reserve Bank of Australia cut its growth forecast for this year to 3.25% from 4.25%.
It cited a sluggish recovery from floods and different pace of growth of various sectors as the reasons.
That coupled with concerns of a slowdown in global economic recovery had raised speculation that the central bank may cut interest rates in a bid to boost growth.
The central bank has kept its key interest rate unchanged at 4.75% for eight consecutive months.
However, analysts said the latest data will ease growth concerns and prompt the central bank to stick to its monetary policy.
"There is nothing here that adds to the rate cut case doing the rounds of the markets," said Michael Blythe of the Commonwealth Bank of Australia.
Related Internet Links
The BBC is not responsible for the content of external sites.