Brazil in surprise interest rate cut to 12%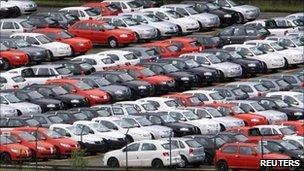 Brazil's central bank has unexpectedly cut the country's key interest rate to 12% from 12.5%, citing a "substantial deterioration" in the outlook for the global economy.
The bank's rate-setting committee voted five to two in favour of the cut.
It had raised rates five times this year in order to combat rising prices.
The surprise cut has raised questions about the independence of the central bank, after a number of politicians called for a rate cut in recent days.
These included President Dilma Rousseff, who took office in January.
The central bank said high debt and weaker growth in developed economies could impact on Brazil.
A number of analysts were baffled by its decision to cut rates.
"I think it's a huge mistake," said Tony Volpon at Nomura Securities.
"They gave in to political pressure. The costs will likely be much higher inflation and a deterioration of central bank credibility... It has damaged the inflation-targeting regime."
Mauricio Rosal at Raymond Jones called the cut "a bit premature".
Inflation in Brazil is currently running at 6.9%.
Neil Shearing, senior emerging markets economist at Capital Economics, said that while his firm had not seen the rate cut coming, it was now predicting further interest rate reductions by the end of the year.
"After all, with the world's highest real interest rates, Brazilian policymakers have plenty of room for manoeuvre," he added.
This year had seen a number of moves by the government designed to prevent the economy from overheating.
As well as the five interest rate rises, the government announced in February it would implement 50bn reais ($31bn; £19bn) of spending cuts.
Other anti-inflation measures have included a big increase in banks' reserve requirements to hold back lending.
Related Internet Links
The BBC is not responsible for the content of external sites.