Ulster Carpets to roll out new recruits in expansion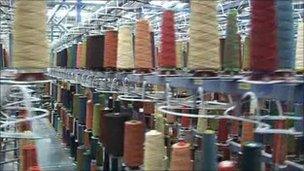 Ulster Carpets is to recruit 15 more staff after announcing that its profits are up.
The Portadown-based company made a pre-tax profit of £3.17m last year.
The encouraging results and investment have been driven by the company's successful exports over the last few years.
Managing Director Nick Coburn said the success could be traced back to decisions taken during the recession.
"When the recession hit back in 2008 we, obviously, like every other business and organisation had to adjust and what we decided to do was look for other markets," he said.
"We went into the Middle East which was a market we had not been into before because the US market, which was our biggest one, took a big hit.
"We also looked into other market segments three years ago and we are reaping the rewards of those investments, supported by a great team we have here in Portadown which supply customers all over the world."