FSA blocks Hungarians from 'share price manipulation'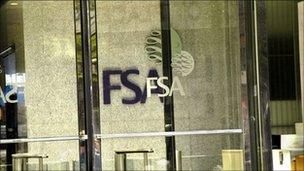 The Financial Services Authority (FSA) has taken out a High Court injunction to stop an alleged share price scam.
Szabolcs Banya, Tamas Pornye and Gyorgy Brad are suspected of making £1m profit via "layering" - placing bogus orders to artificially raise or lower prices.
The injunction freezes their assets and blocks them from market manipulation.
They operated via companies named Da Vinci Invest and Mineworld from August 2010 until July this year, when the FSA says it first took out the injunction.
"This injunction shows that the FSA will take swift and decisive action to protect the integrity of UK markets, wherever those seeking to abuse them are based," said Tracey McDermott, director of enforcement and financial crime.
The BBC was unable to contact Da Vinci Invest for comment.
The Canadian day-trading firm Swift Trade, which was wound up in February, had to pay out £8m after it was found to have profited £1.75m by illegally manipulating share prices.
Layering - also known as "spoofing" - is a technique that takes advantage of the automated computer-based trading used by stock exchanges and other trading platforms to provide live up-to-the-second market prices.
According to the FSA, the traders would place large block orders on the exchange in order to influence automated market prices up or down, then separately trade on these manipulated prices, before canceling the original block orders.
The entire process would take place in fractions of a second.
The illegal practice was first flagged up in 2007 by the London Stock Exchange, which has been employing automated trading since 1997.
The FSA then sent out an industry-wide warning, which has since led to the singling out of Swift Trade and Da Vinci Invest.
Related Internet Links
The BBC is not responsible for the content of external sites.