James Murdoch declines $6m bonus over NoW controversy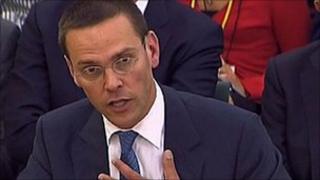 News International boss James Murdoch has declined a $6m (£3.7m) bonus, citing the "current controversy" over phone hacking at the News of the World.
His father, News Corp boss Rupert, received a $12.5m (£7.7) bonus. His total remuneration for the year to 30 June was $33.3m (£20.5m), up 47%.
James Murdoch saw his pay packet rise 74% to $17m, but said declining the bonus was the "right thing to do".
The phone-hacking scandal led to the closure of the News of the World.
Chief executive Rebekah Brooks was among a number of senior figures to resign over phone hacking, including Les Hinton - who led News Corp's financial news service Dow Jones.
Mrs Brooks was arrested in July by Metropolitan Police officers investigating phone hacking at the News of the World.
She was editor of the paper when the voicemail of murdered schoolgirl Milly Dowler was allegedly intercepted.
In July, Rupert and James Murdoch were grilled by the UK House of Commons culture committee - an occasion the News Corp founder described as the most humble day of his life.
James Murdoch, deputy chief operating officer at News Corp, said in his statement: "In light of the current controversy surrounding News of the World, I have declined the bonus that the company chose to award to me.
"While the financial and operating performance metrics on which the bonus decision was based are not associated with this matter, I feel that declining the bonus is the right thing to do.
"I will consult with the compensation committee in the future about whether any bonus may be appropriate at a later date," he said.
Resignation
Details about the pay package were released in regulatory filings ahead of News Corp's annual meeting next month.
News Corp deputy chairman Chase Carey saw his pay rise 16% to $30.2 million.
Meanwhile, News Corp also announced on Friday that its long-time director Thomas Perkins is stepping down.
Mr Perkins, a Silicon Valley venture capitalist, said that, at 80 years old, it was time to move on.
He said the company should not have octogenarians on its board - "unless one of them owns the company, which Rupert does".
Mr Perkins added that the decision to leave had nothing to do with the phone-hacking affair.