Rio Tinto and Anglo American to sell Palabora stakes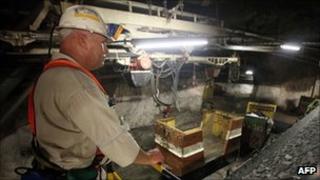 Mining giants Rio Tinto and Anglo American have said they intend to sell their entire stakes in South African copper miner Palabora.
Rio Tinto owns 57.7% of Palabora, while Anglo American owns 16.8%. The company is worth about $975m (£605m).
Both companies said the South African mine was not big enough to justify their continued ownership.
They said the mine would be best served by developing its magnetite business under a new owner.
"Rio Tinto is no longer the natural owner of Palabora due to the limited opportunity to significantly expand copper mining," the company said in a short statement.
"We will continue engaging with employees, the South African government and other stakeholders as the sale process develops and to ensure a smooth transition to a new owner."
Anglo American said: "While studies are under way for a potential extension to the copper mine's life from 2016 to 2030, the operation is no longer of a sufficient scale to suit Anglo American's investment strategy."