Libya conflict: Qatar tries to forge a new global role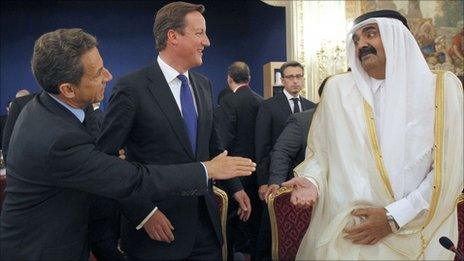 As President Nicolas Sarkozy greeted the world's leaders at the Libya meeting in Paris last month, one leader who emerged from his limousine was perhaps a little less well known than the others.
Qatar's Emir, Sheikh Hamad bin Khalifa Al Thani, then proceeded to stand alongside President Sarkozy and British Prime Minister David Cameron as the talks began.
The tiny Gulf state's bank rolling of the Libyan rebels has given its leader a front-row seat in international politics.
The Arab uprising is changing the political map of the region and Qatar is playing an important role in it.
There are fewer than two million people living in Qatar. And of those, only about 250,000 are Qataris, the rest being foreign workers. But its vast gas reserves have made its people the richest on the planet.
At a time of unprecedented unrest and while traditional regional leaders like Egypt are dealing with their own problems, that wealth is being used to try to forge Qatar's new path as a regional political heavyweight.
But Qatar is not a democracy. Ruled by a monarchy, this may seem at odds with the political changes happening in the region, but some experts think it actually helps Qatar in making quicker decisions.
"We have the emir at the top, but he's generally well respected and he has a lot of genuine domestic legitimacy here," says David Roberts of the Royal United Services Institute think tank.
"It's quite conservative so there's some kind of societal deference."
Qatar's support for the rebels has been widespread and was not just limited to funding the fighting on the ground.
It also provided money for projects such as Libya TV, a television station set up to counter the pro-Gaddafi propaganda machine.
It got off the ground in just five days - no dry runs or practices. Dozens of Libyan journalists and non-journalists alike were recruited and trained at lightning speed.
Among them is 26-year-old Yusra Tekbali. Born and brought up in the US, she returned to live in Tripoli in December. But when the violence started, her plans had to change.
A month ago she arrived in Doha to work for Libya TV as a blogger. And despite the shift in direction, she remains upbeat.
"I was lured to Libya by greater economic opportunities and also a connection with my roots," she says.
"But now, the opportunity for Libyans and young Libyans from abroad is going to grow at an amazing rate. And Qatar will have a role in that, of course."
Despite Qatar saying that its interests were solely about the welfare of the Libyan people, it is expected that Qatar's support for the rebels will pay off economically in time, too.
It has already helped to market oil for the rebels and that relationship is expected to continue.
And as the world's biggest exporter of liquefied natural gas - there may be potential to work with Libya on exploring its reserves.
Qatar's role in the Libyan conflict has boosted its profile. And that, according to some experts, is exactly what Qatar wanted. It is a Gulf state trying to stand out from the crowd.
"These are brand new countries, dating back to the 1970s," says Mehran Kamrava, the director of the Centre for International and Regional Studies at Georgetown University in Qatar.
"They're frantically trying to play catch-up, frantically trying to make a global presence felt.
"[They are] competing with countries like Egypt with centuries of history, competing with countries like Saudi Arabia, competing with countries like Iran that has tremendous resources and a massive demography and geography."
This stance has been well received at home.
In a region used to foreign intervention, an Arab country taking the lead is seen as a welcome step and one that provides both political security and economic stability too.
"This opens the door quite well for Qatar to take this leadership role and to play a role in the Arab renaissance in the 21st Century," says Ibrahim Sharqieh, deputy director of the Brookings Doha Centre.
"By having that active role in the international arena at this point and taking political leadership, Qatar is protecting its wealth and protecting its existence."