Asia's growing middle class fuels theme park boom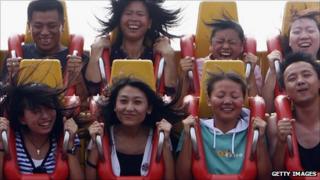 Mickey Mouse, Hello Kitty and Lego bricks will all find new homes in Asia over the next few years as the disposable incomes of the region's newly affluent fuel a boom in theme park construction.
Disney has broken ground on a $3.6bn (£2.3bn) outpost in Shanghai; Legoland plans to open a park in Johor, Malaysia, next year; and Sanrio will open a theme park dedicated to the cute white cat with no mouth in eastern China in 2014.
Meanwhile, Hong Kong's two theme parks are in the throes of a $1bn expansion to keep up with the competition.
And that's just the big names. A rash of smaller, quirkier theme parks have sprouted up, including ones in China dedicated to the smartphone app Angry Birds and the online game World of Warcraft.
"Asia's large populations are now moving up into the bottom rungs of the middle classes," says Chris Yoshii, global director for economics at Aecom, a consultancy that specialises in the industry.
"There's been a tremendous increase in discretionary spending on things like travel, which theme parks are part of," he says.
Fast growth
The industry expansion comes at the right time for theme park builders and investors as attendance is dwindling in Europe and the US.
Theme park visits last year were up 1.9% according to figures from Aecom, but in Asia that figure was 7.3%.
And according to Pricewaterhouse Coopers, the region's market will be worth nearly $8.5bn by 2012, up from $6.4bn in 2007.
Still, there are some reasons to be sceptical.
Hong Kong Disneyland got off to a slow start after it opened in 2005, with poor attendance figures, and was still making a loss in the 2009/2010 financial year. But more recent attendance figures suggest it may have turned a corner.
And in August, China announced that it was slapping a ban on large theme parks not currently under construction - a move that could temper the industry's expansion.
Homegrown success
Asia already has a clutch of successful home-grown theme parks that are among the fastest growing in the world.
Hong Kong's Ocean Park, which features a vast aquarium and rollercoaster rides all perched atop one of Hong Kong's lush craggy peaks, saw attendance figures rise by 6% last year despite the threat from the big-name cross-town rival Disney.
The success of Lotteworld and Everland in South Korea, which both saw double-digit growth last year, is no doubt part of the reason why Universal Studios will be opening its largest park in the country in 2014.
And OCT Parks China runs two dozen parks in China that attract 20 million visitors each year including the country's most popular, OCT East in Shenzhen.
Local tastes
Aware of the competition, foreign brands are going beyond obvious steps such as multilingual announcements and Asian food to ensure that their attractions cater to local tastes.
Kelly Willis, who designed the Toy Story Land attraction which will open in Hong Kong Disneyland in November, says that he made sure that there were plenty of good photo opportunities.
"We started to see how our guests from South East Asia love to take photos," Mr Willis says.
Shanghai's Disney is not expected to feature a Main Street USA, a model of an early 20th Midwestern town, but will sport Disney staples such as a fairytale castle.
They are probably safe in betting the appeal of Disney's stable of characters will transcend cultures.
"It's our first time to see Disney as a family - we wanted to bring our daughter to see Mickey," says Rajesh from Singapore. He brought his wife and three-year-old daughter to Hong Kong Disneyland for a two-day visit.
Curbs
China's government has become wary of the proliferation of new theme parks.
In August, the National Development and Reform Commission placed a ban on the construction of parks.
It affects projects approved by local governments and larger than 20 hectares or that have a total investment of more than 500 million yuan ($78m; £50m).
Mr Yoshii at Aecom says the move is aimed at cooling property speculation rather than slowing the growth of the theme park industry itself, as in China parks often have residential and commercial developments.
The move also comes as Beijing faces pressure to clean up local government debt accumulated through spending on local infrastructure projects that have sometimes included theme parks.
Mr Yoshii says that his clients are concerned about the clampdown although it is not expected to affect international projects such as Shanghai Disney and Hello Kitty Land.
He likens the move to a similar edict issued in 2004 banning the construction of golf courses because of concerns about water consumption and the misuse of farmland that has had little affect.
"The reality is that local governments usually find creative ways of defining their projects so they go ahead," he says.
"Our clients feel it is something they can work around."