Tax returns: Threat of large fines from HMRC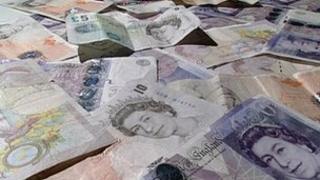 People who file their tax returns late could face a fine of up to £1,600 - even if they have no extra tax to pay.
Many people need to submit a self-assessment tax return to HM Revenue and Customs (HMRC), irrespective of whether they expect a tax bill.
But new, stiffer penalties from the tax authority could hit those who fail to submit their tax return.
The self-employed, company directors and those with multiple incomes have to submit an annual return.
Deadlines
Nearly 10 million people in the UK must submit a self-assessment return each year.
The deadline for paper returns is 31 October, and for online returns it is 31 January. Filing the return late previously led to a £100 fine.
Under the new stricter system there will still be an initial £100 fine for filing after 31 January.
After another three months, the additional fine will be £10 per day, up to a maximum of £900.
For delays of over six months the further fine will be a flat £300 or 5% of the tax due, whichever is higher.
And for returns filed over 12 months late there will be another flat charge of of £300 or 5% of the tax due, whichever is higher, and in some "serious" cases the taxpayer may be fined 100% of the tax instead.
Someone who failed to submit their return for 12 months could end up being fined at least £1,600.
Fines will no longer be cancelled if the taxpayer files late, but owes no money to HMRC, because there is no extra tax to pay or because it had been paid.
"There is a real danger that taxpayers could inadvertently find themselves on the wrong end of a significant penalty, simply because they correctly thought all their tax had been paid, and that was the end of their obligations," said Richard Godmon, tax partner at Menzies accountants.
"HMRC need to make very sure that they do not issue notices to submit a return without good reason, and they publicise these penalties widely."