Will China rescue the West?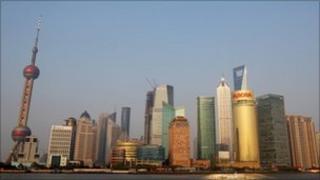 From a rooftop terrace on Shanghai's historic Bund, overlooking the city's magnificent skyline, it was difficult just a couple of hours ago to believe that global markets are in meltdown.
It was all deluxe brands and boomtime euphoria at a party thrown by Sir Richard Branson.
China is still working hard and partying hard, more skyscrapers are blotting out the sun, and its business leaders regard the crisis in the rich West with both detachment and a sense that the cloud over the US and Europe may provide an opportunity for them.
Guo Guangchang, the chairman of Fosun, China's largest conglomerate, told me in an interview that he will take advantage of the fall in share prices to take big stakes in Western businesses - but only where those businesses have the potential to grow in the one place where he sees growth as assured, China.
Over at the largest lighting manufacturer in China, NVC, its chairman, Wu Changjiang, says if his export markets in America and Europe tumble back into recession, he will simply prioritise selling to China - where he says the demand is becoming stronger.
That's the point. There are signs of modest economic slowdown in China. And the Hong Kong and Shanghai stock markets have caught the same cold as the London Stock Exchange and Wall Street.
But China is a world away from slump - and the mood among the Chinese elite is that their country is better protected from the turmoil in the developed world than it was during the great banking crisis of 2008, when China's economy temporarily ground to a halt.
That may be naive. But it also means that although the financially strong Chinese government and Chinese businesses are in a position to help the ailing richer economies - by lending to countries with excessive debts, like Italy, by investing in companies short of capital, even by backing infrastructure projects that create jobs - they will strike a hard bargain.
Little sympathy
That hard bargain might be Western governments being less resistant to the idea of Chinese businesses buying companies in the US and Europe that are regarded as somehow of strategic national importance to us.
The Chinese might also demand the relaxation of restrictions on the exports of certain technologies to them.
The big point is that I got absolutely no sense here that the Chinese feel we are all in this together.
Intellectually they understand that China's vast trade and financial surpluses are causally linked to the unsustainably large debts of the US, UK and a swathe of the eurozone.
But emotionally they take the view that the US and much of Europe have lived high on the hog for too long - and that we need to clean up our own mess.