Soaring energy prices 'force UK manufacturers abroad'
By Gerry Northam
Reporter, File on 4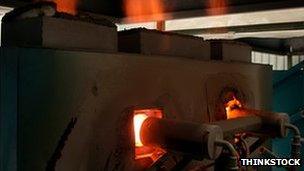 Despite government hopes that manufacturing will lead the UK recovery, there are fears some energy-intensive industries may be forced to leave the UK as prices rocket.
Davin Bates is standing at the cool end of a tunnel kiln watching racks of cups and sugar bowls trundle out ready for glazing.
As we peer fifty feet in to the bright orange centre, he tells me that the internal temperature is well over 1000 degrees centigrade.
Then he breaks the bad news about his gas bill.
Davin is a management accountant at one of Stoke-on-Trent's remaining successful potteries, Steelite. It is a sprawling village of redbrick buildings employing 650 people which produces half a million pieces of crockery a week.
There are seven kilns in all. Keeping them fired up was costly enough last year.
But this year Davin has faced a 55% rise in the cost of gas. The firm's electricity bill has also gone up by 17%.
"We find it difficult to pass on these costs to our customers," says Davin.
He says profits are therefore getting squeezed and the company's future plans are in jeopardy: "Investment will have to be looked at, because this is coming off the bottom line," he adds.
Across the whole sector, energy bills are driving managers to make tough decisions.
At the British Ceramic Confederation, Dr Laura Cohen has watched factory after factory close - and she identifies high energy costs as a major problem.
She knows that other companies have moved production overseas.
"We heard only a few weeks ago that one firm has transferred all of their manufacturing to China," she says. "Energy costs are a significant part of that."
It is a trend which is not confined to the long-troubled Potteries. Other parts of the country are hit too.
The huge chemical industry, which contributes £30m a day to the British economy, is also suffering.
At the family firm of Thomas Swan in County Durham, enormous sealed vats of chemicals are heated and stirred to make specialist powders and liquids for niche hair dyes, printing and cleaning products.
Managing director Harry Swan, a great-grandson of the founder, has steered the company through the recession and now finds himself hit by electricity and gas bills of almost £1m.
His plant uses 28,000 megawatt hours of energy a year. Even before the latest round of price rises, his extra energy costs this year were equivalent to a month's profit. He is dreading the next bill.
For the Chemical Industries Association, chief executive Steve Elliott fears British job losses could be imminent: "There will come a moment when people say enough is enough," he says.
"There will only be one direction of travel - out of the UK."
There could be worse to come.
Industries have been totting up the cost of government and European initiatives to promote a low-carbon economy, the so-called "green taxes", and some say their additional bill will run into the millions.
Cemex UK runs the biggest cement plant in the country, based on the outskirts of Rugby. It is not averse to the idea of a green economy. In recent years it has moved away from dependence on coal alone.
It now also burns chippings from old tyres and a fuel made from minced-up household waste. But the company is worried about the impact of coming green taxes.
Director Andy Spencer estimates that they will increase his annual energy costs by £12m.
What most concerns Cemex is that other countries will not impose similar new taxes on their cement producers. His prices would then struggle to compete on world markets.
So Andy Spencer's thoughts are already turning to the possibility of switching production out of the UK to Cemex plants abroad, particularly in Egypt.
"I can foresee a time when economically it makes more sense to do that and I don't think that time is far away," he says.
"We are very committed to the UK, but there is a genuine concern that we could reach that tipping point where the economics don't stack up to produce domestically in the UK."
Andy Spencer sees that march hitting a roadblock. "We know we need to make the transition to a green economy," he says.
"But it must not come at the price of exporting our domestic energy intensive industries."
The Energy Secretary Chris Huhne says there is little the government can do about some energy price rises.
"How much of this is due to the fact that these businesses are very reliant on world market factors? We've had a 27% increase in the gas price on world markets over the year to August," he says.
"Now with the best will in the world, I can't do anything about that."
He is working on plans to announce special help for high-energy industries later this year, and says that in 2020 the net effect of the government's energy and climate change policies will be to reduce bills across the board.
But he is sceptical of some complaints on green taxes.
"I don't accept that some of the stories we are hearing about green taxes are correct. There are some ludicrously inflated and exaggerated claims," he says.
"I do not want to see even the most energy-intensive industries leave the UK, that would be madness.
"But am I writing blank cheques to anybody who says they've got a problem? No."
Related Internet Links
The BBC is not responsible for the content of external sites.