Japan's ruling DPJ party outlines plans for quake-tax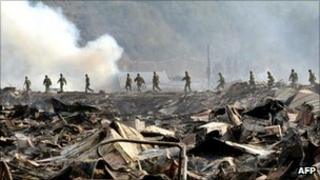 Japan's government and the ruling Democratic Party (DPJ) have agreed to temporarily raise taxes to pay for reconstruction after the deadly March earthquake.
The plan to raise 9.2tn yen ($120bn; £77bn) needs approval by the DPJ's coalition partner and the opposition party.
Officials said a further 2tn yen would be raised by selling government assets.
The earthquake and subsequent tsunami killed more than 16,000 people.
At the same time, thousands of homes and businesses were destroyed in the country's north-eastern coastal areas.
The new tax plan will increase taxes on incomes, companies, property and tobacco.
Corporate taxes will be raised starting next April and last three years, and income taxes will go up as of January 2012 for 10 years.
The tax on tobacco will be increased as of October 2012.
The Democratic Party of Japan also agreed to a third post-quake stimulus package of 12tn yen, government officials confirmed.
That plan must also now be negotiated and approved by opposition lawmakers.