Fraudsters turn to debit and credit card snatching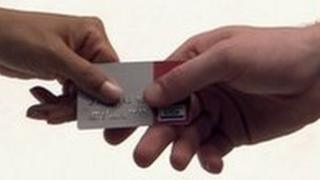 Con-artists are resorting to basic card snatching, police say, as the payments industry continues to cut losses from more hi-tech crimes.
Fraud losses on UK credit and debit cards in the first half of the year fell by 9% compared with the same period of 2010.
The UK Cards Association said this was the third consecutive half-year fall and that £169.8m was lost.
Fraudsters were often relying on distracting shoppers to steal cards.
Police dealing with cases say con-artists have been grabbing cards in shops or at cash machines without the owners noticing, or tricking them into revealing their Pin code.
Online banking
Total losses hit a peak at £610m in 2008, but have mainly been falling since.
Online banking dropped by 32% from the first half of 2010 to the first six months of this year to £16.9m.
This was the result of computer users being more wise to security and banks' use of fraud detection software, the association said.
The amount lost through telephone banking rose by 48% over the same period to £8.6m.
Often, this involved a caller pretending to be from the police or a bank and telling their victim that card has been subject to a fraudulent transaction.
They then asked the victim to key some details into the handset. They guessed the numbers from the audio tones on the keypad and used those details to access their bank account and withdraw money.
Detective Chief Inspector Paul Barnard is head of the Dedicated Cheque and Plastic Crime Unit, which is a specialist police unit sponsored by the industry.
"There has been an increase in old fashioned scams - criminals using distraction techniques and social engineering methods to get hold of people's cards or phone banking details," he said.
"We are urging everyone to be on their guard. Your bank or the police will never cold call you or email you and ask you for your login details, cards or Pins. If anyone does, they are probably a criminal, so hang up the phone or delete the email."
Innocent victims of fraud on their debit or credit cards are protected under rules in the UK banking system, so they should always be refunded any financial losses.