Bangladeshi film industry's fight for survival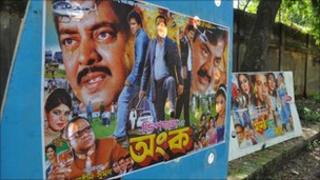 The Bangladeshi film industry, known as Dhallywood, is about to face serious competition.
Ever since its independence from Pakistan in 1971, local cinema halls have been banned from showing Indian films.
It was an attempt to protect the local film-making industry which is worth $20m (£12.9m).
But in the coming days, cinema halls here will show three Indian Bengali movies and nine more Hindi movies from Bollywood will be screened later.
Even though the move is not permanent, it has angered film-makers, producers and actors and has caused a fight between them and the theatre owners.
"Bollywood is a big institution. Their production cost is 100 times more than our production cost. How can we compete with them?" asks Masud Parvez Sohel Rana, a well-known Bangladeshi actor and director.
"It seems to me like you are asking a flyweight boxer to fight with a heavyweight boxer," he adds.
He says even the one-off screening of Indian movies will put more pressure on the government to lift the ban permanently, and if it happens, the home-grown movie industry will vanish in no time.
Film industry leaders also warn that more than 100,000 people are dependent on the industry and their jobs could be in danger.
Huge losses
However, cinema hall owners argue that they are losing revenue because of the ban.
It is also because of the falling number of films produced locally.
About a decade ago, Bangladesh produced about 100 movies a year.
But last year, the number dropped to about 60 and it is expected to go down further this year.
"We are not getting enough movies to screen in our cinema halls," says Iftekharuddin Naushad, who owns Madhumita cinema hall in the capital Dhaka.
"As a result, many halls have either been shut down or converted into malls."
In recent years, the number of cinema halls in Bangladesh has reduced from about 1,500 to just over 600.
Many say the business is not sustainable under present circumstances and satellite television channels have been drawing away viewers.
"Our cinema halls are running with one fourth of their capacity and we are incurring huge losses," says Ahasanullah Moni, who owns Razmoni cinema hall.
The Bangladesh Motion Pictures Exhibitors Association has been urging the government to allow Bollywood movies to be screened in local cinemas to inject new life into the business.
"We are not asking to open the floodgate by importing hundreds of films. We want to screen a certain number of good Indian movies, Bollywood films, so that we can have some healthy competition," says Mr Naushad.
Joint production
Some film critics argue that importing Bollywood movies will also have benefits by forcing Dhallywood to improve its standards.
They say the poor scripting, production and technique of Bangladeshi films are driving away viewers from cinema halls.
Bollywood movies are already shown on satellite television channels in Bangladesh.
Pirated DVDs of these films are freely available across the country with Bollywood stars like Shahrukh Khan, Salman Khan and Aishwarya Rai are more popular than local actors.
"Without bringing Indian films to the local market, there is no way to revitalise the industry. Actually there is no industry here," says young Bangladeshi director Rubaiyat Hossain.
To overcome the present crisis, Ms Hossain proposes more Indo-Bangla joint production.
Her critically acclaimed film Meherjaan, included cast and crew from Bangladesh, India and Pakistan.
"I don't think I could have brought my film to the present technical level, if I hadn't worked with Indian technicians," says Ms Hossain.
"I have learnt a lot by working with them and we do not have that kind of post-production facilities here in Bangladesh," she adds.
In an age of satellite channels, internet and cell phones, the demand for good and well-made movies is increasing.
So it seems Bangladeshi films cannot avoid competition for very much longer.