ECB holds interest rates and offers loans to banks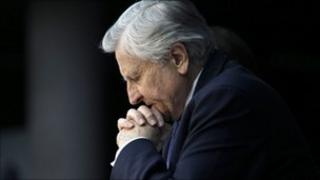 The European Central Bank is offering unlimited new one-year emergency loans to banks to help steady the eurozone.
The ECB said it would also help the banks by spending 40bn euros (£35bn) buying assets from them known as covered bonds.
Speaking at a news conference, ECB President Jean-Claude Trichet urged "banks to do all that is necessary to reinforce balance sheets" where needed.
Earlier, the ECB left eurozone interest rates unchanged at 1.5%.
"The situation of the banking sector calls for particular attention," the ECB said.
Covered bonds are bundles of mortgages and other loans which are backed by their own collateral, and are considered among the safest paper investments.
A previous 60bn-euro covered bond buying programme, launched by the ECB in response to the financial crisis, ended more than a year ago.
The decisions come amid intense speculation that European leaders are preparing moves to recapitalise banks - something that would go well beyond the ECB's actions.
'Surprise'
Mr Trichet retires at the end of the month and will be replaced by Bank of Italy head Mario Draghi.
It is the third month in a row that the ECB has left interest rates unchanged, after being raised from 1.25% in July.
Analysts said the decision to hold rates was a surprise.
Chris Williamson, chief economist at Markit, said: "The ECB's decision to focus on inflation instead of reversing rate hikes made earlier this year is a surprise, as a rate cut appears to have been warranted, according to the recent downward trend in business surveys."
Some economists had expected the bank's 23-member governing council to cut rates because of signs of slowing growth in the eurozone economy.
But the central bank explained that inflation was likely to stay "elevated".
The interest rate decision also surprised markets.
The euro initially weakened after the rate decision was announced, but then rallied 1.3% against the dollar.
Stock markets took the news less well, with the German Dax index immediately dropping 1.8%, before later recovering.
Earlier, the UK's Bank of England kept interest rates on hold at 0.5%, but re-started quantitative easing with a £75bn package.