Japan extends its post-quake loan scheme by six months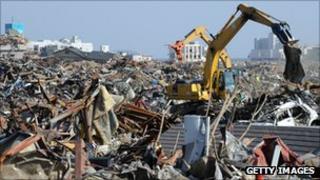 The Bank of Japan (BOJ) has extended its loan scheme for banks operating in areas affected by the earthquake and tsunami by six months.
The central bank had offered 1tn yen ($13bn, £9bn) in special loans to banks to ensure liquidity for reconstruction efforts after the natural disasters.
The loan scheme was due to expire at the end of this month.
BOJ also left its interest rate unchanged at 0.1% in a bid to boost growth amid uncertain economic outlook.
"Rebuilding from the earthquake is the dominant story for Japan, and this will become an identifiable force in the second quarter of next year." said Adrian Foster of Rabobank International.
Uncertain outlook
Japan's economy in a recession and has contracted for three successive quarters.
Though the reconstruction and rebuilding efforts are expected to boost growth, analysts warned that external factors may hurt Japan's economy.
"Uncertainty over Europe remains and there is a possibility that more negative news will come out of the region." said Yuichi Kodama of Meiji Yasuda Life Insurance.
The are fears that a global economic slowdown may dent demand for Japanese exports and impact growth.
Analysts said the central bank may be forced to ease its policies even further if that happened.
"I think there is still a 50% chance of additional easing by the BOJ this year." Mr Kodama added.
Yen trouble
The uncertainty surrounding the global economic growth has seen investors flock to the yen, a traditional safe haven in such times.
That has resulted in the Japanese currency strengthening against the US dollar, a move that has hurt the country's manufacturing and export sector.
Japanese authorities have already intervened in the currency market in a bid to stem the yen's rise and analysts said the central bank may be forced to step in if the currency continued to rise.
"If concerns over Europe trigger a spike in the yen that would threaten Japan's real economy, the BOJ could ease policy again as it did in August," said Yasuo Yamamoto of Mizuho Research Institute.
"Further easing would involve boosting its asset-buying scheme."