Mobile operator O2 apologises for data roaming mistake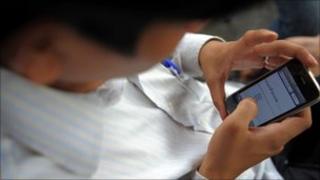 The mobile phone operator O2 has apologised after mistakenly telling some customers they had spent £40 on data roaming abroad.
Texts were sent to users even though the service on their phones was switched off.
The company said only a small number of people were affected and that extra controls were being put in place.
Technology experts have also warned that the new iPhone 4S could push up roaming bills in a short space of time.
Bill shock
Rachel Sinclair, from Bristol, was just hours into her trip to France on the 24 September, when she received a text on her iPhone telling her she had downloaded £20 of data.
"I was very surprised as I had turned off data roaming just after arriving in the country," she said.
"I double checked the roaming function was off and then turned off the handset but the next morning I received another text saying the bill had gone up to £40. I was away with friends and it really took a bit of pleasure out of the holiday."
New EU legislation introduced in July 2010 was meant to prevent so called "bill shock", when customers received large bills for downloading e-mails, surfing the web or using applications on their phones while abroad.
Operators now must warn customers once they have reached certain limits. O2 sends its customers worldwide a text once they have spent £20 on data, again after they have spent £40, and automatically caps the data service once users have downloaded 50 megabytes.
To avoid such charges, customers are encouraged to make sure the data roaming function is turned off when they are abroad, which Mrs Sinclair believed she had done.
Overcharged
After investigating her case, O2 said that she had in fact accrued just 60p in data roaming charges, not £40.
The company estimates that she was one of up to 100 customers who were sent messages in error at the end of last month, warning them they had reached data roaming limits even though they had not downloaded that amount.
"At the start of the week we had received six complaints about the text-message-in-error issue. We have now put extra controls in place to prevent this from happening again," said an O2 spokesman.
"If people do not want to use data roaming while abroad we advise them to make sure the data roaming function is in off mode before they leave the country."
On mobile phone forums, there are many complaints from users about being charged large sums when they have used their phones to access data for even very brief periods.
Rupert Goodwins, editor of technology website ZDNet UK, said that as smartphones got even smarter such problems could escalate.
"The iPhone 4S is typical of the new breed of smartphone, that have much faster data connections," he said.
"It means they can get a lot more data through a lot more quickly and so even if you have your phone on for just a minute to check e-mail it could be downloading many megabytes of data in the background, all of which could be charged for at a huge rate, so its very speed can work against you," he said.
O2 said many of its customers were aware of the data roaming charges that could be accrued. Although it admitted it did not routinely tell customers when they joined O2 about them, it said there was a clear explanation of how to avoid data roaming charges on the O2 website.