Is shale gas Britain's answer to cheaper gas bills?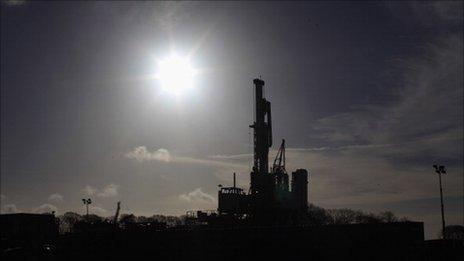 Huge swathes of Britain are up for grabs in a new round of gas exploration licences which the government is due to issue soon. Could this be the answer to cheaper energy bills?
Looking over the maps he drew up for the Department of Energy and Climate Change (DECC), Nigel Smith, a geologist working for the British Geological Survey, highlights which areas of the UK contain the most potential for gas exploration.
"Kent, Surrey, Sussex, Hampshire, the Wessex Basin - and that could include the Isle of Wight and Dorset," he says.
"Scotland...the Midland valley, too."
Mr Smith's map also includes vast areas of central England and the Welsh borderland - although the rock formations in those parts of Britain are trickier to drill.
Underground opportunities
This first data on potential UK shale gas resources has ramped up interest in domestic gas exploration.
Several companies are chomping at the bit to get their hands on one of the new licences the government is planning to issue.
Mr Smith thinks these are going to prove incredibly popular.
"I think there's going to be a fantastic uptake. I have seen the interest building up over the last two years," he says.
"Everybody's waiting with bated breath for the next round to come about."
Shale gas is a by-product of shale rock. Trapped in prehistoric clay thousands of metres underground, it is released by blasting the rock with water and chemicals to release pockets of gas.
It used to be far too expensive to mine, but recent developments in drilling technology have now made it commercially viable.
In fact, drilling for shale gas is already underway along the Lancashire coast, not far from Blackpool.
Cuadrilla says these significant resources also present the prospect of new jobs, estimating over 5,000 workers could be needed should the Lancashire drill reach peak production.
With shale resources locked underground across much of Britain, there is huge potential in many areas.
In a business park in Bridgend, South Wales, is the modest HQ of Coastal Oil and Gas. Company boss Gerwyn Williams says he cannot wait for the next round of licences to be issued.
The company already owns 17,000 square kilometres of land in South Wales, Somerset and Kent where they hope to drill for shale gas.
Mr Williams says the UK has yet to wake up to the resource sitting beneath it.
"There's a lot of shale… and a lot of areas that haven't yet been taken up, so I think there's going to be a lot of interest in the next round," he says.
"We're looking forward to it".
Coastal Oil and Gas estimates there are £70bn worth of shale gas resources in South Wales alone - the corporation tax from this could make a pretty big dent in the UK deficit.
However, mining engineers and energy investors speaking to BBC Radio 4's The Report were sceptical about some of the estimates of shale gas resources being made - largely because the companies making them are not listed on the stock exchange.
"They can say the moon is made of green cheese, it's not subject to the normal reporting requirements of the stock exchange," says Professor Paul Stephens, a senior research fellow in energy at think tank Chatham House.
Professor Stephens says he hopes firms like Cuadrilla are right, "but don't hold your breath," he says.
Cuadrilla's chief executive Mark Miller stands by his company's estimates, and says aside from jobs and energy security, households across the UK could also benefit from the shale gas boom, in the form of lower bills.
"If this follows the same trend as in other successful oil and gas markets, you could see energy prices turn the corner and go down as a result of having your own supply in your own country," he says.
The UK currently imports around a third of its gas, and this is expected to rise to 80% by 2020, so a new domestic supply would certainly be welcome - but that is unlikely to lead to cheaper bills anytime soon, if at all.
Top of the list of concerns is the side-effect of "fracking" - the process of blasting rocks with water and chemicals to release the gas.
While DECC and the Environment Agency are both convinced this will not affect local water supplies, campaigners like Louise Evans are sceptical.
Ms Evans runs a caravan park in Cowbridge, South Wales, half a mile from a proposed gas well.
"There's never going to be a guarantee it's safe, but it's a very new method and we're calling for a moratorium so that everyone can take a step back from it," she says.
So far, the cause of campaigners like Ms Evans has garnered limited support from parliament, with just 15 MPs signing a motion for such a moratorium.
As well as fears of pollution, shale gas exploration has also raised concerns about noise disturbance and the visual blot of gas drills appearing on the landscape.
Rick Rule, an energy broker with Sprott Asset management in Vancouver, says drilling disruption is sure to be an issue.
"People might be disturbed by the presence of a drilling rig in an otherwise pastoral scene... and there would be a visual impact in an area for 4 or 5 years," he says.
However, he also believes the UK must seize the opportunity while it can. "The future for shale gas in Britain is very bright," he says.
But the Energy Minister Charles Hendry is not getting too excited just yet.
"We do see [shale gas] as a game changer in places like the United States, but we don't see the same pace of change or potential here in the UK at the moment.
"But we will obviously watch very carefully the developments which happen."
Related Internet Links
The BBC is not responsible for the content of external sites.