Public post closures pile up in Coventry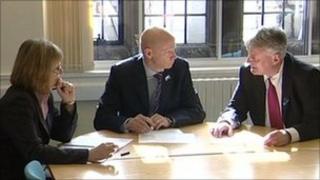 Coventry is a city that was hit hard, and fast, by the cuts.
In the space of nine months, we now know that just over 900 posts have closed at public sector bodies across the city.
We're trying to track public sector employment in this city in the aftermath of last October's spending review.
With its diverse private and public sector, Coventry is like a mini-UK economy, so we have been trying to get as comprehensive picture as possible of the story behind the national headlines.
Some of the job losses, in themselves, would hardly make a national news story.
A few posts have gone here, a few posts there; but they all add up.
We now reckon that between Oct 2010 and June 2011, 924 posts have closed in Coventry, which is 4.4% of all public sector posts in the city, or 3% if you include university workers.
The question I've been pondering is: where have all these workers gone?
I get the sense that a lot of them haven't been turning up at the local job centre to try to land a new job.
In fact, there was a small fall in the number of people signing on for Jobseeker's Allowance for the period in question, but the claimant count does tend to fall at this time of the year.
Also, it is difficult to draw a straight comparison between this measure and the redundant public sector workers because, if they have received redundancy payments, there is likely to be a lag before they show up in any of these figures.
Take 61-year-old Ted Hiscocks. He had planned to continue working full time as a civil engineer at Coventry City Council until at least 2015, but he left at the end of July following what he described as an "attractive" early retirement/redundancy package.
He is in no desperate rush to find a new job, but he is on the lookout for new activities, paid and voluntary.
The City Council now has 520 fewer posts than it did a year ago and 471 fewer people. Of the people leaving, 131 of them left in the three months from April to June. These closures have largely been achieved through voluntary redundancy. It seems those who have left are the ones who wanted or were readily able to go.
But the next trawl for redundancies at the City Council will get a lot harder, and it's grappling with next year's budget, too.
It's going to get tougher everywhere in the public sector.