Home sellers warned over risky lease option deals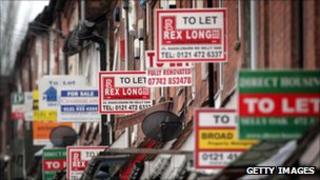 With house repossessions predicted to rise over the next year, financial experts are warning financially vulnerable homeowners to be cautious of risky lease option agreements which could put their property in jeopardy.
"We were sold the idea that the house would be, in theory, no longer our responsibility.
"One of the slogans they used to entice us in was that we could 'move and never look back'".
"The house was a massive millstone round our necks and we just desperately wanted to get away from it."
Speaking to 5 live Investigates, Martin Angliss reflects ruefully on the predicament which prompted him to sign up to a property agreement which was apparently risk-free, but which has now left him facing bankruptcy and repossession of his home.
Mr Angliss and his wife Trudy have fallen victim to the rapidly growing business of residential lease option contracts, which experts are warning could lead many other homeowners into financial difficulties.
The couple had simply outgrown their two bedroom terrace in the East Midlands and, as they planned to have a fourth child, were desperate to move to a larger place.
Missed mortgage payments
Their house had been up for sale on-and-off for five years, but with the market stagnant, like many would-be sellers, they were trapped.
That is why in May 2010 they signed a lease option agreement with Phil Martin, of Rapid Property Buyers Ltd, based in Caldecotte, Milton Keynes.
The company promised to pay the Angliss's mortgage and maintain the property while renting it out to new tenants.
The couple, who had no financial problems, were not looking to profit from the move. They just wanted to make a fresh start in a larger house, in a better area.
Mr Angliss, an NHS administrator, and Mrs Angliss, a medical student, realised something was going wrong six months after moving out.
"It was just before Christmas last year that we came to check our credit reports because we'd been receiving letters from credit card companies saying due to a change in our circumstances they were going to lower our credit limit.
"One too many of those letters prompted us to check our credit files.
"We found out that the lease company had missed three mortgage payments and the bank was on the brink of commencing legal proceedings.
"We knew nothing about that because all the correspondence from the bank was going directly to Rapid."
By this time Mr and Mrs Angliss were already paying rent for their new family home, so could not afford to take on the mortgage payments.
Nor could they simply move back to their old house because the tenants signed by Phil Martin - who were not paying rent - were still living in the property.
Imminent repossession
As a result Mr and Mrs Angliss are now facing repossession, and the prospect that when the house is sold at auction, they will still be responsible for a £30,000 - £40,000 shortfall on their mortgage.
"It has been a very stressful time," says Martin Angliss.
"I mean, at the moment, we literally dread every knock at the door."
This is not how lease option deals are supposed to work - which are different to sale-and-rent-back schemes, which the Financial Services Authority regulated in 2009.
In theory, investors take over the running of a homeowner's property and pay the mortgage for a specified period. When this period is up, the lease company has the option of buying the property and selling at a profit - if house prices have risen - or return it to the original owner if house prices have gone down.
The problem is, there is virtually no legislation in this area, thus opening the way for unregulated investors who cannot always deliver on their promises.
5 live Investigates has discovered that the man who enticed Mr and Mrs Angliss - Phil Martin of Rapid Property Buyers Ltd - owes £3m to various creditors and has recently been declared bankrupt.
Mr Martin did not respond to the BBC's request for an interview.
Ray Boulger of mortgage brokers, John Charcol, says: "There is a serious risk of lease options becoming a major scandal if potential vendors are not warned about the major risks involved."
Mr Boulger says that because this area of investment is unregulated, it is "potentially attractive to those who are refused authorisation by the Financial Services Authority".
Although lease option deals are common in the commercial property market they have not, until recently, been seen in the residential sector.
Now though, there is a burgeoning market in seminars and workshops organised by self-proclaimed "property gurus" who are attracting investors with the prospect of rich-pickings from distressed homeowners.
Property expert and TV presenter, Kirstie Allsopp, says she is horrified that this kind of deal is being applied to residential properties.
"The idea of handing the communication with your mortgage company over to someone else who's paying your mortgage for you seems deeply suspicious from the outset."
The Council of Mortgage Lenders is warning that any homeowner entering a lease option arrangement could be in breach of their mortgage terms unless they get permission from their mortgage lender, while the Financial Services Authority also urges caution before signing any deal.
Their advice has come too late for Martin Angliss who hopes others will learn from his fate.
"Even on the good days it's always there at the back of your mind," he says. "You can never quite just forget about it, even for a day."
There are other companies that use the trading name Rapid which are not associated with Mr Martin.
Listen to 5 live Investigates on Sundays 16 at 21:00 BST on BBC Radio 5 live or listen again on the BBC iPlayer or by downloading the 5 live Investigates podcast.
Email the programme: goldberg@bbc.co.uk