G20 ministers meeting to discuss eurozone debt crisis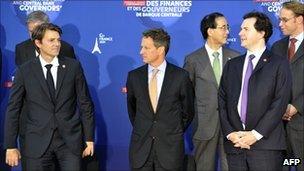 Finance ministers from the G20 group of nations are meeting in Paris to continue efforts to find a solution to the debt crisis in the eurozone.
While Greece remains the central focus, fears remain that the crisis could spread to other highly indebted eurozone countries such as Spain and Italy, and exposed European banks.
Greece needs its next bailout loan next month to avoid defaulting on its debt.
Spain was hit by a further credit rating cut on Thursday.
Standard & Poor's reduced Spain's long term rating by one notch, citing weak growth and high levels of private-sector debt.
It came a week after fellow credit rating agency Fitch also cut Spain's rating.
On Thursday, Fitch also downgraded the creditworthiness of UK banks Lloyds and RBS, and also Switzerland's UBS.
The euro rose as high as $1.3828 against the dollar in Friday trading, on optimism about the meeting of G20 finance ministers.
However, analysts caution that any major decisions on tackling the eurozone debt crisis will not be announced until the meeting of European Union (EU) leaders on 23 October.
These are expected to include an agreement on increasing the funding and powers of the European Financial Stability Facility (EFSF), the fund set up to help national governments in financial difficulty.
The European Commission President, Jose-Manuel Barroso, said on Friday that any decisions taken on banks or on the eurozone's EFSF rescue fund at that meeting should take effect immediately.
Mr Barroso said: "Any decision should be enforced immediately, concerning the strengthening of the EFSF or concerning increased guarantees for our banks."
Measures to protect European banks with high levels of exposure to eurozone national debt are also expected to be decided by EU leaders.
Prior to the meeting, South Africa's Finance Minister Pravin Gordhan warned that International Monetary Fund (IMF) and EU resources may be "inadequate" if the eurozone debt crisis worsened.
US Treasury Secretary Timothy Geithner disagreed, saying that both the IMF and EU already had sufficient funds.
He said: "As we look at the world today, the IMF has very substantial, uncommitted, available financial resources.
"Of course, Europe as a whole has resources available to help with the financial problems.
"The problems that they are facing there in Europe are complicated to solve, but well within the resources that Europe has."
Mr Geithner also said the G20 was looking for a "clear commitment" from Europe to deal with the debt crisis.
He told CNBC television from Paris: "What you need is the clear commitment by the governments, that they will do what is necessary to hold this together and put as much resources behind this as is necessary."
He said Europe "is clearly moving" to deal with the crisis.
Mr Geithner is expected to make a fresh call at the G20 meeting for China to allow its currency, the yuan, to trade freely.
Washington has long accused Beijing of keeping the yuan undervalued to make Chinese exports artificially competitive.
Athens is now likely to get its next loan instalment in November after inspectors from the EU, International Monetary Fund (IMF) and European Central Bank said they had reached agreement with the Greek government on further austerity measures in the country.
The representatives from the so-called troika had been in Athens to check on whether the Greek government was carrying out sufficient spending cuts and tax raising measures.
Greece's next 8bn euros ($11bn; £7bn) payment of EU and IMF funds has been delayed since the troika inspectors called off earlier inspections in Athens at the start of September.
However, inspections resumed after the Greek government pledged further austerity moves, despite widespread protests.
Protests against spending cuts are also continuing in Spain.