Who pays when the cash machine does not deliver?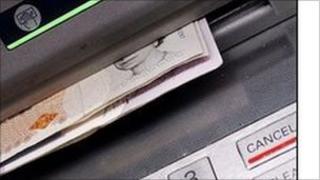 What rights do you have if a cash machine you try to withdraw money from does not issue you the cash, but your account is still debited?
Ann Alexander, a customer of Allied Irish Bank from Cheshire, experienced this when she tried to withdraw cash from an HSBC machine in her town, as she told Radio 4's Money Box programme: "A slip came out saying that £500 was being dispensed. No money came out.
"Then a second slip came out which just had the words error on it."
When Ann checked her account, she was alarmed to see she had still been debited for £500, even though the HSBC cash machine had not issued any money.
Ann assumed Allied Irish would contact HSBC and sort out the problem and she would quickly be recredited.
But Allied Irish told her that HSBC had checked the transactions on the cash machine for that day and the money paid out tallied with the requests made at the machine.
Her account manager said in a letter: "The ATM machine was balanced for that period and all transactions were completed successfully. Therefore, I regret to advise you they are not in a position to make a refund for this transaction.
"I can only think that maybe the cash got stuck in the machine and a passer-by took it?"
Ann was not willing to let the matter drop.
"I was shocked. Apart from the fact it was £500, it was the principle of it."
Allied Irish Bank suggested Ann take her case to the financial ombudsman Service if she was still unhappy.
She did, but in a letter, the ombudsman told Ann it could not help her: "It would appear that we cannot deal with your complaint because we can only consider complaints made by customers of the business which provide the service complained about.
"You do not appear to fit into any of these categories as you are not an account holder with HSBC."
Still convinced she was being unfairly treated, Ann made one last attempt to get Allied Irish Bank to settle by making an ex-gratia payment but it refused.
When Money Box contacted the Financial Ombudsman Service, it said that Ann could in fact bring her case. However it would have to be brought against Ann's bank, Allied Irish, rather than HSBC which operated the cash dispenser.
Two days after Money Box first raised Ann's case, Allied Irish refunded her the £500 and gave a credit of £200 in her account.
Graham Mott from Link, which connects the UK's cash machine network, said the consumer protection which should help customers like Ann did not work in her case: "The customer's relationship is with the bank, who the ATM is is not your problem. It's up to the bank to prove the customer did get their money than the other way round."
Proof burden
The Financial Services Authority confirmed that in these sorts of disputes it was up to the bank to prove that the customer had received their cash.
The rules are part of the 2009 Payment Services Directive.
It said the fact that cash machine operators said its payments tallied was not in itself sufficient proof.
Mike Dailly, who sits on the Financial Services Authority's Consumer Panel, said the banks had to make sure their responses complied with the directive: "Certainly money going missing in terms of ATMs' withdrawals is an issue. The very senior management of banks need to make sure that their front-line staff are aware of the rules.
"The ombudsman service is great as a safety net but we really don't want people to have to complain in the first place."
BBC Radio 4's Money Box is broadcast on Saturdays at 12:00 BST, and repeated on Sundays at 21:00 BST.